Novelist, political columnist and      essayist, Professor Okey Ndibe, is a US-based author of critically acclaimed novels; Arrows of Rain, published in 2000, Foreign gods, Never Look An American In The Eye, etc. In this interview with Prisca Sam-Duru , Ndibe talks about his new book,  problems with SSS and  sundry issues. Excerpt:
What inspires you to write?
Writing for me is a mode of engagement with my environment or the society which I belong, which are Nigeria, my little community and the United States where I base at the moment.
Favourite writers?
I have numerous favourite writers. It's going to be injustice to name them but if you talk about Nigerian authors, I would say Chinua Achebe was a very important early shaping influence on my writing as was Wole Soyinka with his poetry which I encountered in secondary school. So, I particularly cherish Chinua Achebe for his relationship to Language.
The way he has taught us about the treasure of language. Soyinka has moved me by the consistency of his moral example – From before the civil war to the civil war (the Biafran war) to his continuous engagement with our country's moral and ethical crisis.
At what point did you decide to become a writer?
I dreamed from the early stage and when I left secondary school, I knew I wanted to become a journalist. I didn't think I could become a novelist. That came by accident. The Achebe's magazine that I went to America to set up basically stopped publication because it was losing too much money, and Achebe and other investors didn't have the money to continue. One day, I ran into one of our writers, Wideman Edgar, a major African-American writer.
He asked my next plan since the magazine I was editing has folded. My encounter with him resulted in my first novel,  Arrows of Rain.   When he saw the manuscripts he said I reminded him of Ngugi Wa thiong'o. So he gave me a fellowship that enabled me to go to graduate school in America to study fiction and subsequently, I did a Ph.D as well.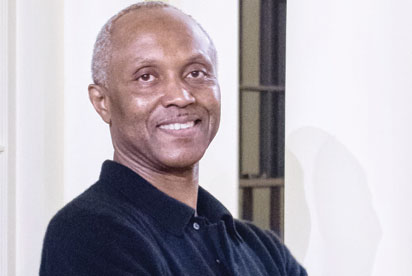 Has writing offered you the desired satisfaction?
Writing is everything for me. Writing and reading actually because you can't be a writer if you don't read. My greatest joy is when I'm writing and reading, I tell people that literature is engaging in an act of seduction and I like to seduce people with my story and use of language. And I also like to be seduced by other writers.
How did Never look an American in the eye come?
That came from my uncle's instruction before I left for the US. He said if I look an American in the eye, I would be shot. So when I got to the US, I was arrested for bank robbery because the Police thought I fitted into the description of the thief. While I was being questioned, the memory of my uncle's instruction never to look an American in the eye was clear. So all through, I kept my head down. I was later released when they discovered my innocence.
Have you started looking Americans in the eye now?
Yes, and I've not been shot, contrary to what my uncle told me. No American has shot me.
Do you have any work in progress now?
One of the projects I'm working on at the moment is with Bookraft. He wants to collect my Nigerian essays into series of books. So the book will touch on my relationship with fellow Nigerians as well as political power in our country.
What's your view about another African winning the Nobel Prize for literature?
Our obsession for Nobel Prize diminishes us. It is wonderful when a writer is honoured. But no literary prize is superior to the other. The absence of a prize does not diminish who Achebe was, for instance, or who he continues to be, because he left a very important record.
Do you think seduction through writings has worked in Africa?
Well, the larger situation in Africa is a product of so many different forces. We have 54 African countries and most of them are creations of British, French, Portuguese or Belgium colonial fiats and did not engage African participation at all. Africa is wrestling with artificiality of its very own national boundaries. We haven't defined even basic questions like what does Nigeria mean. We haven't defined what our community means or what it takes to be a citizen. So the writer is engaged in this larger struggle to define our humanity. It hasn't been achieved though.
You said you are still being harassed at the airport each time you are coming home. How come?
Actually, when I was first arrested in 2009, I came to Nigeria three times and was preparing to come back again. I got phone calls from two different individuals telling me not to come because the Yar' Adua government had put down my name as an enemy of Nigeria on account of my literary works. I discussed it with people including, Wole Soyinka, and they encouraged me to come, since I was no criminal, and so should travel freely.
I canceled the trip due to pressure from my family. When President Jonathan came to the US, two of his officials called me and invited me to come to Washington DC and I made it clear that it wasn't part of my plans to meet people in power. I had to keep a distance because of my columns. Jonathan further asked them to tell me that he had given instructions that the list of names should be destroyed. So in January 2011, I arrived Nigeria thinking it was true, but the SSS took me away and held me for three hours and when they released me they confiscated my two passports and asked me to report to their office.
Wole Soyinka heard about it and wrote strong statements to international organisations and the press all wrote about it. It was all over the world. So the government was rattled and when I arrived on Monday at the SSS office, I was given back my passport and was told it was a mistake. Jonathan gave strict instructions that my name should be removed from that list. I insisted that there should be no list at all. But you know civil servants can be lazy. That has not been done. And so each time I visited Nigeria and show my passport, the SSS must see me. Well it's one of those inconveniences one has to deal with being a Nigerian.
The post I like to seduce people with my stories and language — Okey Ndibe appeared first on Vanguard News.