By Henry Umoru
ABUJA—DEPUTY Senate President, Ike Ekweremadu, yesterday hailed the Federal Government and some states for giving serious consideration to his suggestion for extension of the whistle-blower policy to the proliferation of illicit arms in the country.
Senator Ekweremadu spoke yesterday while answering questions from journalists on the move by the government to implement his suggestion and how to address connected concerns such as human rights infringement, misuse of whistle-blowing for political witch-hunt, and contemplation of compensation for whistle-blowers on illicit arms.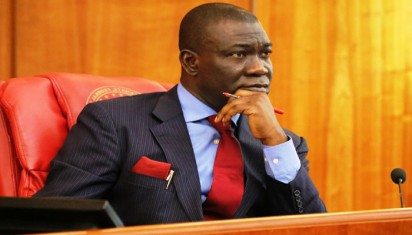 Ekweremadu, who said it was up to government to design a clear framework for whistle-blower policy, said:  "First, I commend the federal government and some states who are already buying    into my suggestion to apply the whistle-blower policy to address the challenge of proliferation of illicit arms and mindless killings all over the place.
"As I suggested on the floor of the Senate and also during a meeting with a human rights group a few weeks ago, unless we effectively mop up the illegal arms all over the place, we may never be able to arrest the orgy of widespread killing and destruction around the country, be it herdsmen attack, armed robbery, kidnapping or terrorism.
"I would however love to further suggest to the government to design a general framework for whistle-blowing, covering all areas it wants to apply the policy on, such as corruption, illicit arms, kidnapping, and terrorism."
"It should predetermine the compensation, not necessarily on the basis of percentage, and apply it across board from a pool of fund set aside from percentage deducted from recovered loot.
''That is to say that whatever compensations or motivations should be paid from recovered loot, irrespective of the crime, a whistle is blown.''
The senator, however, called for "consequences for false alarm, witch-hunt, and mischief."
"We must ensure that information are thoroughly investigated before the law enforcement agencies strike and that those who give false information get at least three month imprisonment without an option of fine.
The post Illicit Arms: Ekweremadu hails FG on whistle-blower policy appeared first on Vanguard News.