By Henry Umoru & Favour Nnabugwu
ABUJA—GOVERNOR Godwin Obaseki of Edo State has donated the N1 million to the family of Mr. and Mrs. Imudia Uduehi, which gave birth to a set of quintuplets at the National Hospital, Abuja.
Governor Obaseki, who described the birth as wonderful blessings to Edo State, also promised to settle the hospital bills.
In a congratulatory message to the family by the acting Liaison Officer, Edo Office, Abuja, Festus Osaigbovo, said: "I have the instruction of Governor Obaseki to congratulate you and your family on the safe delivery of your  quintuplets on April 12, 2017 to appreciate God Almighty God for these wonderful blessings to Edo State."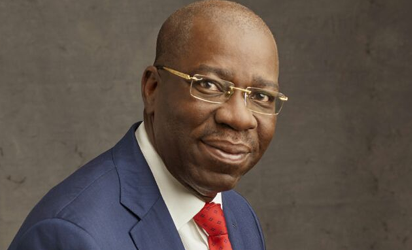 Meanwhile, Head of the Civil Service of the Federation, Mrs Winifred Oyo-Ita, has given automatic employment to father of the quintuplets, Mr Imudia Uduehi, and a house to accommodate him and his immediate family.
Oyo-Ita also gave cash donation and gif items to the mother of the babies, Mrs Oluwakemi Iduehi at the National Hospital, Abuja on Saturday evening.
The Head of Service and her team were received at the hospital by the Chief Medical Director of the hospital, Dr Jef Momoh and went straight to the parents of the five babies for her presentations.
Imudia and Oluwakemi,  hail from Edo and Kwara States respectively, both graduates of Computer Science, University of Ilorin, Kwara State and got married in December, 2015.
While the quintuplets' mother, Oluwakemi, works at the Nigerian Population Commission, Abuja, the husband, Imudia, is yet to get a stable job.
According to Oyo-Ita, "We can see that the mother is doing well and the babies are well in the Intensive Care Units and they have even started breast feeding them. It shows that the medical care in our country is not as bad as people make it to look like. What our medical care need is support rather than condemnations."
Speaking on the house promised to the Uduehis, the Permanent Secretary (Common Services Office) of the Head of Service, Mr Yemi Adelakun, who is also the Chairman of Federal Integrated Staff Housing, FISH, said that FISH committee will meet and take a decision on the size of house to be given to the couple but assured that it will be a size able one that will accommodate the parents and their children.
The post Obaseki donates N1m to parents of quintuplets appeared first on Vanguard News.