Serena Williams has announced that she is pregnant, and while that is a wonderful development for her it will also have seismic impact on women's tennis.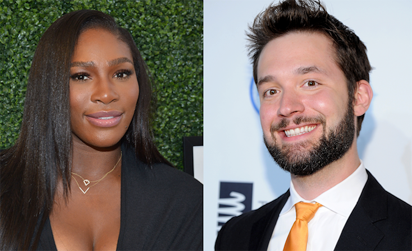 The world's greatest player revealed her happy news with a simple picture on Snapchat, accompanied by a label that said '20 weeks'.
She later deleted it, and a congratulatory tweet from the Women's Tennis Association was also removed. Confirmation from her management was not immediate.
Williams is engaged to social media entrepreneur Alexis Ohanian, who was with her in Melbourne in January. If the original posting was indeed the revelation that Williams is expecting then the ramifications are huge for the sport.
Next Monday she is due to go back to number one, despite only having played two ranking tournaments outside the Grand Slams in the last twelve months, plus the Olympics.
She has bestrode tennis like a colossus, and now it looks like she may have won the Australian Open in January while in the early stages of pregnancy.
If she is to give birth later this summer then she will surely not be seen on a tennis court for the rest of the year.
Any return would not be until well past her 36th birthday, which is bound to raise the question about whether a truly great career is at an end.
The younger Williams sister has won 23 Grand Slams, is just one short of Margaret Court, who collected many of hers in an era when the difficulties of international travel often diluted the fields.
Her absence would leave the chase for the biggest prizes wide open for the likes of Britain's Jo Konta, currently the world number seven.
The elite level of the WTA Tour is already without some of its biggest names for a variety of reasons. Twice Wimbledon champion Petra Kvitova is still recovering from the effects of a dreadful assault at her home which damaged her hand.
Maria Sharapova is coming back next week from a 15-month doping suspension while Victoria Azarenka is due to return this summer after having a child of her own. Relatively recent Grand Slam winners such as Li Na and Marion Bartoli retired while Garbine Muguruza has not followed up on her French Open title of 2016.
Without Williams, who was next due to play in May's Madrid Open, there would be a massive vacuum and a near free for all when it comes to the battle for the sport's biggest prizes.
The post Serena Williams is 20 weeks pregnant appeared first on Vanguard News.