By Levinus Nwabughiogu
ABUJA – National Coordinator of the Emerging Leaders' Forum, Alhaji Aminu Balele has appealed to the Federal Government to declare a public holiday in honour of the 82 rescued Chibok schoolgirls.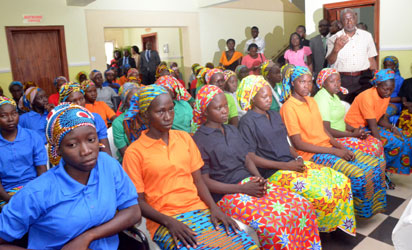 Fielding questions from State House correspondents in Abuja on Tuesday, Balele said the holiday would enable Nigerians to celebrate and also offer prayers for the return of the rest of the girls who are still in captivity.
"If this incident happens in the (United States) US, the American government would surely declare a public holiday to celebrate and thank God,'' he said.
It will be recalled that the girls were amongst the 276 abducted by Boko Haram insurgents on April 14, 2014 from Chibok community in Borno State.
Upon their release on Saturday, the girls were formally received by President Muhammadu Buhari on Sunday before his departure to the United Kingdom for medical attention.
Sent from my BlackBerry® smartphone provided by Airtel Nigeria.
The post Declare public holiday in honor of 82 freed Chibok girls appeared first on Vanguard News.