By Emmanuel Aziken, Ben Agande, Dapo Akinrefon, Charles Kumolu,  Wahab Abdulah, Wole Mosadomi & Gbenga Oke
MINNA — ON a day three former Heads of State, all retired generals – Olusegun Obasanjo, Ibrahim Babangida and Abdulsalami Abubakar met in Minna, Niger State, to discuss the state of affairs of the country, wife of the president, Aisha Buhari, said, yesterday that the President is in good health.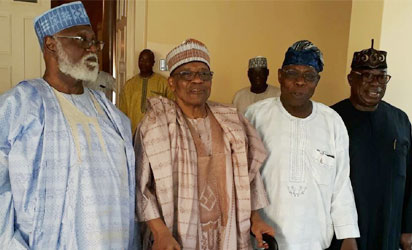 The closed-door meeting, which  was held at General Babangida's Hilltop mansion in Minna lasted for about three hours.
In the past couple of days, the polity has been awash with concerns over President Muhammadu Buhari's health, with Nobel Laureate, Professor Wole Soyinka; former Chief of Army Staff, Lt. General Alani Akinrinade, retd; and All Progressives Congress, APC, former National Chairman, Chief Bisi Akande, speaking out on the issue.
Akande, specifically said he wept over Buhari's health while some of the country's leading human rights activists asked President Buhari to go on medical leave to regain his health.
President is in good health – Aisha Buhari
However, tweeting on the state of the nation and reports of President Buhari's worsening health status, wife of the President, Aisha Buhari, said her husband's health is improving.
In three different tweets, yesterday, the First Lady said her husband is in good health and attending to his duties as President of the country and holding meetings with government officials.
In the first tweet, sent out from her Twitter handle @aishambuhari, she first thanked Nigerians for their concern on her husband's health, saying "I thank all Nigerians for their concern, love and prayers over my husband's health status."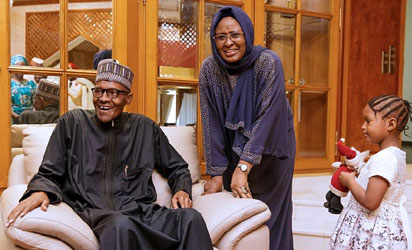 Following that, she went on to reassure Nigerians that reports of the President at the point of near death were ill-founded saying: "I wish to inform everyone that his health is not as bad as it's being perceived. Meanwhile, he continues to carry out his responsibilities."
Giving fibre to her assertion of her Buhari's improving health, she followed with another tweet of his engagement with government officials. "During this period, as it may come to your notice, he is meeting with Minister of Justice and GMD of NNPC this evening," she tweeted.
Pray for Buhari, don't speculate on his health status, ACF urges Nigerians
In like manner, the Arewa Consultative Forum, ACF, has called on Nigerians to pray for President  Buhari's quick recovery and not to speculate on what his health conditions are.
In a statement issued in Kaduna, yesterday, the forum called on Nigerians to stop making careless and unnecessary statements on the issue.
In the statement by its Secretary, Muhammad Ibrahim Biu, the ACF said what Nigerians need to do for the President is pray for him.
The terse two-paragraph statement reads: "We have observed with concern that some individuals are carelessly making unnecessary remarks pertaining to the health of President Buhari. What Nigerians need to do now is to pray for his good health and not to speculate or draw conclusions, which will do no one any good. ACF advises Nigerians to please pray for the improvement of Mr. President's health so that he can serve the nation with more vigour.
"On the speculated disorder and lack of cohesion between the National Assembly and the Presidency, ACF advises the National Assembly to think of Nigeria above all other considerations".
Mixed reactions trail, OBJ, IBB, Abubakar's meeting
Meanwhile, the necessity or otherwise of the meeting of the three leaders raised dust yesterday with human rights lawyer, Chief Mike Ozekhome, challenging them to disclose details of the parley.
It's unnecessary influence – Afenifere
In its reaction, the Pan-Yoruba Social-Political Group, Afenifere, described the meeting of the former military leaders as unncessary influence peddling.
Afenifere's National Publicity Secretary, Mr Yinka Odumakin said: "It is an unnecssary influence bouncing. The issue over the President's health is an issue that involves 180 million Nigerians that voted for him. Those who voted for the president should be the ones to decide on that, it is a constitutional matter and not a matter that should be discussed by only three men. I am convinced that they met over other issues and not on the state of the nation or on the president's health. In any case, if they have any suggestion that has to do with the state of the nation, they should make it known and get it across to those in government. We have passed the stage where only three people will meet somewhere and decide the fate of the nation."
They should disclose details of their meeting – Ozekhome
Chief Ozekhome said: "The meeting of the former three presidents can raise eyebrow whether it has to do with the health of the President or not. Especially when it has to do with Babangida, Obasanjo and Abdusalami. If it was to discuss the state of the nation, why were Jonathan, Shagari, Sonekan, Yakubu Gowon not invited? It certainly cannot be a meeting to discuss  the state of the nation outside the others. Let these former heads of state come out clean and tell us what the content of the meeting was.
"The state of the health of the President is such that, if we are to be fair to him and to be fair to himself, he should excuse himself and travel to London for proper medication. At over 74 years, and with his health not enjoying the best of times, it is better for him to take care of his health. This is because health is wealth. It is not good to over-stretch himself. Those who are holding him are doing so for their personal interest. I believe that the time has come when the President's health issue should be critically looked into even by the Senate because Nigeria cannot afford an absentee President.
''Nigerians voted for President Buhari to be their President physically, mentally, intellectually, spiritually, etc. For government supporters to be arguing that the President can work from his house is begging the question and cannot help the situation. The reason is that lies or propaganda have an expiry date. If the same people that said the President was hale and hearty when they visited him in London and the President came to Nigeria and was bold enough to tell Nigerians that his state of health is not okay, something must be done. If the President is my father I will honestly tell him to take a rest for now and allow his vice president to act in office."
The meeting is uncalled for—Yerima
Also, National President of the Arewa Youth Consultative Forum, AYCF, Alhaji Yerima Shettima, criticised the trio saying they cannot decide the fate of the nation.
His words: "The three leaders cannot decide the fate of this country. My position is that the meeting amounts to treason. If I were Buhari, I would get them arrested because such a meeting is treasonable. Why were the likes of Shehu Shagari, Yakubu Gowon and Jonathan not called for the meeting? Why should it be only three of them holding a meeting to discuss the fate of the country? As far as I am concerned, the meeting is uncalled for. If it is truly a stakeholders' meeting why weren't the other former leaders of the country invited or present at the meeting?"
It poses special significance—Osuntokun
On his part, Mr Akin Osuntokun, former Political Adviser to former President Obasanjo said: "I do not know the full status of the medical condition of President Buhari. The indication given by his decision to stay away from office is a signal that there is cause for concern. Coming against the backdrop of public anxiety over the health of the president, the meeting of the trio poses special significance. So, it is a question of adding two plus two. As suggestive as the confabulation seems, it may all be nothing more innocuous than a get-well visit to a recuperating Babangida. Nonetheless, it is a gathering that is guaranteed to generate maximum public curiosity."
The meeting is significant – Fani-Kayode
In his reaction, former Aviation Minister, Chief Femi Fani-Kayode, said the meeting is a step in the right direction.
"I am not one given to speculations about what transpired or did not transpire in meetings but one thing I would say is that it is significant. I think it is a very positive thing. Our nation is on the brink. I said only recently that something was about to give in this country and it is very much clear that Nigeria needs wise counsel and guidance from the elders as never before. If indeed they met to discuss the concerns about the way the nation is going by trying to make their input, then, that is a very positive thing."
I'm not surprised they met – Mohammed
Second Republic lawmaker, Dr. Junaid Mohammed said he is not surprised that the former heads of state met in Minna. His words:
"I believe their meeting has to do with the national crisis that has enveloped the country and that of the  mental and physical capacity of President Buhari to govern the country.
"From the look of things, Buhari has shown that he is incapacitated and cannot continue to govern Nigeria because his sickness has caused paralysis in government. So, if three former heads of state, who know the dynamics of government met in Minna, that shows they are also concerned about the dangerous trend that has enveloped this nation. Buhari has not been seen in the Federal Executive Council, FEC, meeting for three consecutive times and we don't even know what is really going on with the President's health. So, I feel strongly some issues informed the meeting between the three former heads of state. I am not surprised they met."
We should empathise with Buhari – Adeniran
Executive Chairman of the Centre for Anti-Corruption and Open Leadership, Mr. Debo Adeniran said:
"We have to empathise with the President and  look beyond the personality of the President. We should encourage him to seek proper medical care outside. If he is that sick, we should ask him to seek care outside. If we have not been told that he has failed, we should not overheat the polity. Credit should be given to the Vice President. We should seek the way forward. We believe the present administration is doing what others did not do, therefore, we will not advocate for a change of guard. We want him to recover. "
The post State of nation: Obasanjo, IBB, Abdulsalami meet appeared first on Vanguard News.