By Johnbosco Agbakwuru
ABUJA —THE leadership of the organised labour, yesterday, directed all workers to get voters card so that it could use its numerical strength to vote out political office holders that have decided to punish workers by not paying them salaries, entitlement and pensions as at when due.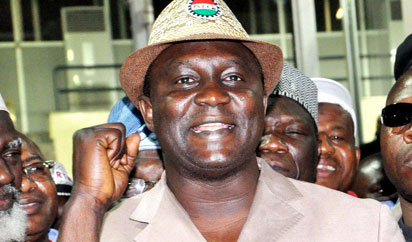 Organised labour also took a swipe at the Head of Service of the Federation, HoSF, over her alleged lackadaisical attitude towards the issuance of circular abrogating the dichotomy between holders of Higher National Diploma, HND, and Bachelors degree, in the civil service, saying that has affected economic growth in the country.
Speaking when he visited some affiliate labour unions in Abuja, National President of the Nigeria Labour Congress, NLC, Mr Ayuba Wabba, said Nigerian workers were the worst hit in maladministration in the country and that some state governors were so mean to the extent of paying workers half salaries and even paying people that had served the country meritoriously 50 percent of their pensions.
Wabba directed workers, even those on wheelchair, to ensure that somebody took them to the registration units where they would get their voters cards.
Speaking to the National President of Nigeria Union of Pensioners, Comrade A.O. Afolayan, Wabba said: "At every meeting, we shall have a voters card. I want you, as a matter of urgency, to issue a circular that every pensioner has a voters card, even if on a wheelchair.
"We will not continue to  agonise. This time around, we are going to be organised. Those (political officer holders) that have done well, we will reward them, those that refused to pay pension and salary, we will also reward them.
"Some Pensioners in Imo State receive as low as N4,000. This is wickedness and it is not supposed to be so.  A Lance Corporal, when I was travelling to north, lamented being paid N58,000 and he has three kids in school and the school fees is N32,000."   Organised labour also threatened to take the battle to the government if it continued with alleged "huge discrimination" in the health sector, which only favoured medical doctors against other medical staff.
The NLC boss frowned on the delay by the HoSF in sending out circular to MDAs to stop paper discrimination, explaining that it was decided that the only parameter for progression in the civil service was competence and ability to deliver and not paper qualifications.
The post 2019: NLC directs workers to get voters card appeared first on Vanguard News.