By Enyim Enyim, Onitsha
The Independent National Electoral Commission has withdrawn from the motion on notice it filed in suit No. E/201/2017 at an Enugu High Court seeking an interim injunction and stay of action of the order of mandamus that recognized chief Martin Agbaso as the authentic national chairman of the All Progressive Grand Alliance (APGA).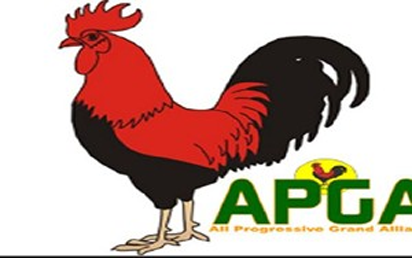 The suit between Comrade Mike Alioke and All Progressive Grand Alliance as Applicant Respondents for Agbaso and the INEC, Inspector General of Police and Commissioner of Police, Enugu State as first and second Respondent/Applicant respectively for the former national chairman of APGA, Chief Victor Ike Oye was filed on the 8th day of June 2017.
The motion made available to Vanguard read; Notice of Withdrawal of motion on notice filed on the 8th day of June 2017. Take notice that the 1st respondent in the motion dated 7th day of June 2017 and filed on the 8th day of June 2017 prayed the Honourable Court for an order to set aside the judgement of Honourable Justice A.R. Ozoemena delivered in the above suit on Monday 22nd day of May 2017 is hereby withdrawn. Dated this 5th day of July 2017.
Names of the INEC lawyers that endorsed the motion for withdrawal are T.M Inuwa, Nnamdi Nwaeze, Suleman A, Sunday Nwigboke, Alhassan A. Umar, Wendy K, Abdulazz Sani and Ogechukwu Agbo.
On Monday, May 22, 2017 the Enugu High Court 3 presided by Justice A.R. Ozoemena upon hearing the motion by Mike Alioke and All Progressive Grand Alliance granted an order of Mandamus that recognized Agbaso as the national chairman of APGA and accordingly ordered the Inspector General of Police, INEC and the Enugu State Commissioner of Police to comply.
Not satisfied with the order, the Oye faction of the party in alliance with INEC and the Police headed for Appeal at the Enugu High Court 2 seeking a leave of the court to Appeal the order of Mandamus at the Court of Appeal in Enugu.
However, the presiding judge, justice Reuben Onuora washed off his hands from the matter and referred it back to the Enugu State Chief Judge for reassignment to another judge.
Following the development the Oye faction filed an Appeal at the Enugu Court of Appeal praying the court presided by justice Ignatius Igwe Agube to set aside the order of Mandamus by granting them an interim injunction or stay of action which the court refused them.
The Appeal Court in realization that courts would go on vacation advised the parties to write an application to the President of the Court of Appeal to set up a special vacation panel to hear their matter.
The post APGA crisis: INEC withdraws from suit appeared first on Vanguard News.