By Theodore Opara
BAJAJ Auto, India,  world's largest manufacturer of three-wheeler and two-wheeler has introduced a new range of products into the Nigerian market.  The new range of  products include the Bajaj MaximaC, a mini truck for cargo delivery and mini ambulance trucks all tailor-suit for Nigeria's rough and bad rural roads.
The new range of vehicles are already being assembled in Nigeria with plans at advanced stage for their manufacture next year. The company's Senior Vice President, Mr. K.S Grihapathy, said the Bajaj is  powered by a four stroke Kubota diesel engine with two cooling system that has an impressive power of 6.2 KW.
Compact lightweight
Grihapathy who spoke at the launch of the new vehicles in Abuja explained that the engine is mated to a five-speed gear box for optimum load carrying over carrying terrains.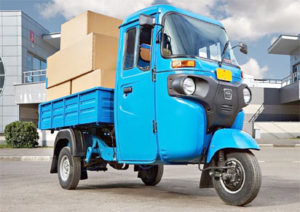 On why the mini cargo trucks were recommended for the Nigerian market, Grihapathy said, "it is easy to drive, compact lightweight and has an extremely strong chassis made of reinforced steel. The vehicle also comes with a dry clutch and car type CV shaft which calls for very less maintenance. The vehicle has a covered cabin for all weather protection and comfort of the driver.
"Over the years, our passengers' three wheeler have become a part of the social fabric in Nigeria. Apart from being an effective first and the last mile transportation solution, it also provides employment to millions. With Maxima Cargo, we are now introducing our range of cargo three-wheeler and ushering in a new solution of cargo transportation that is cleaner, safer, and more comfortable. We feel that this vehicle will be an effective solution in the last mile cargo space in Nigeria which currently is beset by problems like congestion, traffic, and pollution."
Also speaking about the new range of vehicles from the Bajaj stable, Managing Director of Metropolitan Motors, the sole distributor of the products in Nigeria, Mr. Toyin Okewo expressed satisfaction in partnering with Bajaj, saying that the new products are durable, affordable and rugged.
His words, "Our partnership with Bajaj began last year when Metropolitan Motors was selected out of 43 others firms and we have become the first company in Africa to be so selected for distributorship for these new products. The products are answers or solutions to transportation challenges.
Last mile transportation
"We are happy to partner them in creating a new segment of last mile transportation, given its affordable cost, multi-purpose nature and the Nigerian road landscape. "We believe there is a good market for such a vehicle in the last mile cargo sector in Nigeria.
"We recommend them because of their usefulness for agriculture and job creation.  We therefore seek assistance of stakeholders like the Central Bank of Nigeria and the Federal Ministry of Agriculture."
Deputy Senate President, Chief Ike Ekweremadu and the Governor of Benue State, Dr. Samuel Ortom who were special guests at the occasion described the new range of vehicles as game changer and key driver of economic diversification of the Nigerian economy.
The post Bajaj increases product range in Nigeria appeared first on Vanguard News.