By Iyanuoluwa Abigael Olawoyin
Mrs Christiana Ebiai started a career in education 40 years ago when, fresh from Lagos Anglican Girls Grammar School, she proceeded to then University of Ife (UNIFE), now Obafemi Awolowo University, for a bachelor's degree and later University of Lagos (UNILAG) for her post – graduate program. She is currently doing a PhD in Comparative Education.
Ebiai has been a principal for 18 years in five different private secondary schools and head of a private primary school. In two of the six schools, she was the founding head.
In this interview, she talks about her work at The Regent College, Abuja, and the role of private education in the development of the country.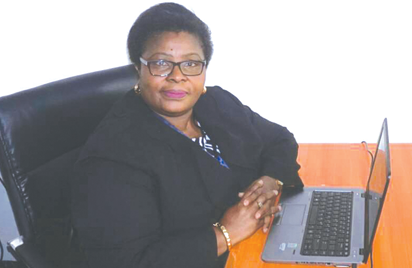 What has been your experience at The Regent College?
The Regent College, Abuja, is a new addition to the Regent family of schools which has been known as a first class school for students and parents in Abuja and beyond for the past 17 years.
It is a 6th form college that is accredited by the Cambridge International Examinations for the conduct of Advanced Subsidiary and Advanced Level Examinations. We are in partnership and affiliation with the top five per cent of world universities for feeder University Foundation Admissions (UFP) in many sought after fields of practice. Our college is also accredited by the Universities and Colleges Admissions Service (UCAS). We are here to cater to the needs of parents who value good education and are willing to bequeath an excellent academic experience for the future right-standing of their children in their chosen professions.
What are the advantages for a student doing A Level foundation in Nigeria?
Many parents wisely choose to have their children attend 6th form colleges for the following advantageous reasons: The minimum age of admission to study a degree program in the university is at least 17 years. Hardly do you find a year 11 or SS3 student that is 17. Their average age range is 14-16. It is a big gamble to release a young child into the world to depend on his own devices because if a child is sent abroad too early, distraction and peer influence can lead to the de-railing of such a child.
Many parents make the wise choice of having their children attend a 6th form college in Nigeria so they can play a supervisory role in the crucial 1 or 2 years leading to university entry.
Another advantage for parents is that the fees you are required to pay in Nigeria would be on the average, about 10 per cent of the fees you would have had to pay for the very same quality of education outside Nigeria and the money you will save in these 1-2 years can be ploughed back to extend the child's stay to the master's level. In my opinion that is smart thinking.
Putting together a program is one thing.   What steps has The Regent College taken in terms of quality assurance?
We have put together a carefully selected faculty with the right disposition and passion for student achievement. Our faculties are very experienced and acknowledged top achievers in their individual subject areas, as well as the area of our unique curriculum emphasis (leadership). They will challenge the students and broaden their intuitive and cognitive development skills as they bring their individual exciting approaches to the administration and delivery of their subject matter.
In addition, our UK partners visit our college for teacher training at least twice a year. And whereas the curriculum is the same as the one our partner institutions deliver, the exams are the same, and a marks scheme is provided for uniformity and standardization between our college and that of our partners. Furthermore, our teachers visit the UK schools now and then for immersion and on-the- job observation and training. All of these serve to replicate the same conditions and standards of our partner and affiliate institutions in the UK.
Having been a teacher cum principal most of your life, what would you say are the challenges faced by private schools in Nigeria?
The United Nations recommends that 26 per cent of a member country's budget should be allocated to education but Nigeria consistently falls below this level. So the most prominent challenge is shared by the entire educational sector, and that is, inadequate support. In the 2017 budget for example, only six per cent was allocated to this sector. Private educators have had to soldier on without support in spite of the wonderful work achieved in contributing to the development of the future workforce of this country. Mushrooming of schools is a problem that borders on standardization. This must be seriously looked into by the bodies concerned.   At the micro level you have so much competition which can be positive as well as negative. Where it is positive, it results in the raising of standards and this in turn leads to undue pressure on children to achieve. A balance is necessary.
The opinion is that private schools employ unqualified teachers because of cheap labour. What is your view?
I disagree. Any school that knows its onions will go for the very best of teachers so as to meet the expectation of parents which of course is very high.
How do you rate the quality of teacher training in Nigeria?
The quality is generally acceptable. You can only categorically speak within the scope of your experience and I was privileged to have attended three different universities in Nigeria at different stages of my education. Most Nigerian universities take teacher training seriously and they have the end focus in view in their processes. The dynamics of change of a country are determined by its educational system.
In Nigeria, education is a tool for national development and it is supposed to be used for the acquisition of competencies by the future and present workforce of our country for the fundamental growth and required changes in our society.
Private schools are not too accessible because of exorbitant fees. What can be done to remedy this?
Contrary to this assertion, private schools cover the entire available social levels in Nigeria. I mean, you have private schools that charge as low as N25, 000-N30, 000 per term. Even in those schools, the owners would be very strict with their teachers because they are in competition with other schools at that level and can only grow if they give good service.
What distinguishes The Regent College from other 6th form colleges in Nigeria?
We have in place a unique curriculum that caters for the all-round development that will evolve our vision of a globally endowed Nigerian.
Our curriculum is constructed to groom leaders that will bring about positive change tomorrow. Our students will imbibe an experiential leadership oriented curriculum that is geared to build a mind-set of change and the willingness to affect the future of Nigeria positively. Change starts with adequately educated individuals. They would know their country and its neighbors and that would place them in a comparative perspective with the countries they aim to proceed to for studies, to extract workable African solutions for Nigeria. Our college is designed to be an academic think -tank for the youth where academics will be pursued at a vertex point but the ideals required for achievement and change will not be left un-touched.
You have spoken mostly about academic standards. How do you promote the social development of your students?
Our extra-curricular activities come in three strands. We have a well thought-out program for cognitive and social skills development, practical skills and abilities development as well as sports. It is geared to help our students achieve the best they can be. A large part of it will be action – oriented and supportive of the acquisition of skills required for programs and project management.
The post Change starts with good education — Ebia, Head, Regent College appeared first on Vanguard News.