Against all known laws of nature, Nigeria basketball which has which has witnessed a steady growth to top the African chart and risen to global prominence looks doomed for an imminent drop, unless urgent steps are taken to prevent the ugly, but predictable end.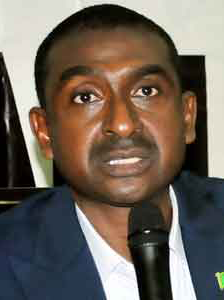 At the moment, there are two Nigeria Basketball Federation boards. One has Tijani Umar as President while the other is led by Musa Kida. Government recognises the latter board which emerged in Abuja after the June 13-government organised elections. Each board has been claiming legitimacy and FIBA, the world Basketball governing body has swung into action.
In a letter to both Presidents and copied to the President of the Nigeria Olympic Committee, Engr. Habu Gumel, FIBA Africa President, Hamane Niang and FIBA Executive Director(Africa) Alphonse Bile the world governing body was unequivocal in its condemnation of the dirty war going on in Nigeria and warned that it might be forced to use its sledge hammer.
One of the Presidents, Tijani Umar was handy when asked to react to the FIBA letter.
"The letter from FIBA is clear and unambiguous. I am happy that the letter spelt out what should be done and for once, I believe that letter will bring us back to do things the way things should be done. It calls for due process and if this will lead us to do things the proper way, so be it."
Umar said he has led a quiet revolution in Nigeria Basketball and taken the sport to a new level and would be the last man to see what has taken him years to build to be destroyed by the ambitions of a few.
"We have raised the bar. We have all along set up a concrete infrastructure for the development of the sport and trying to establish due process is not achieved overnight. It is tedious and painstaking. Now we have a constitution and if we go by the FIBA letter and due process is the watchword, then we are going back to the basics.
Musa Ahmadu Kida who was elected President at the Sports-ministry-organised elections replied through text message that he could not talk. In his own words, "Sorry, I can't talk now,"
The post Nigeria Basketball crisis: Back to the basics appeared first on Vanguard News.