The #Not Too Young To Run (NTYTR) movement, a coalition of about 80 youth groups rallied at the Unity Fountain, Abuja on Tuesday, 25th July 2017 to show its rage and disgust at the alleged termination of a Bill to reduce the  antiquated and anti-youth age barrier to qualification for elections in Nigeria.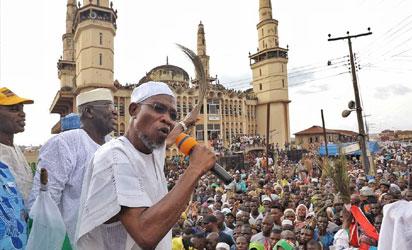 The bills, sponsored by Hon Tony Uwulu (Oshodi/Isolo Constituency) in the House of Representatives and another in the Senate seeking to remove the age barrier and introduce independent candidature appear to have been terminated at the Committee stages of the Senator Ike Ekweremadu-led Joint Senate and House of Representatives Committee on Constitution Amendment. Critics point to the fact that nothing was mentioned of the Not Too Young To Run Bill during the recent retreat of the Committee in Lagos, which obviously sparked the rage of the youth groups.
The Bill had sought to alter Sections 65, 103, 131 and 177 of the Constitution to lower the ages for qualification for the Office of the President from 40 to 30 years; Governor from 35 to 30 years, Senate from 35 to 30 years House of Representatives from 30 to 25 years and House of Assembly from 30 to 25 years. However, the House of Representatives, in response to the youth protest, has issued a statement denying the removal of the Bill from the constitution amendment process.
For the avoidance of doubt, we are fully in support of lowering the age barriers to elective leadership. The ideal situation should be that whoever qualifies to vote should also be considered qualified to be voted for. This rule had held sway in Nigeria even before independence, which enabled young people in their early twenties, such as Dr Sam Ikoku, Dr Matthew Mbu, Malam Maitama Sule and host of others, to become federal and regional parliamentarians and ministers.
Beyond that, the world is swinging resolutely in favour of youth participation in electoral leadership. This was what made the emergence of Mr Emmanuel Macron as the President of France at 39 possible. In Nigeria, his age would be a disabling factor.
The youth constitute up to 70 per cent of the population in sub-Saharan Africa, Nigeria inclusive. It is  unconscionable politics of constitutional exclusion to keep such a large group of the citizenry from contributing to the leadership of the nation and helping shape their own future.
We must lower the age bar and allow the youth to start early to be part of leadership so that by the time they reach their middle ages they would already be relevantly experienced. We are fully behind the protesters, and we call on the Senator Ike Ekweremadu Committee to ensure the constitutional barrier against the youth is promptly eliminated.
The post No to age barrier for election appeared first on Vanguard News.