By Chinonso Alozie, Owerri
Governor Rochas Okorocha of Imo state, Monday, unveiled twenty urban security vehicles for surveillance in the Owerri municipality.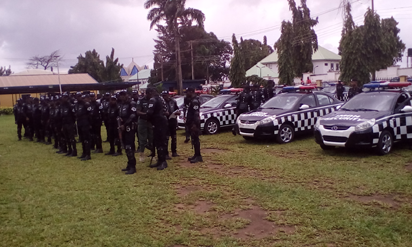 The unveiling ceremony took place at the police headquarters command in Owerri.
Okorocha who was represented by his Chief of staff, Mr. Uche Nwosu, said that the vehicles were meant to police only the capital city.
Nwosu briefly said: "What I have seen today, there is no doubt that Imo is coming first in the Federal Republic of Nigeria, in the area of security.
"I also want to say that, one thing is to release the money and another thing is to utilize the money effectively for the purpose which it was given.
"This is called city police and they are meant to serve only for the capital city and make sure that the police get rid off criminal activities in Owerri."
In his remark, the Imo state commissioner of Police, Mr. Chris Ezike, said that the vehicles had been commissioned earlier by Inspector General of police, Idris Ibrahim, and that it has officially kicked off.
Ezike said: "The IG had commissioned the vehicles but the delay was because we have to train our men in different skills including human rights issues. We know that security is both physical and psychological. And we have concluded and operation has started.
"We want to say thank you to the Imo state government, for donating these vehicles to assist us fight crimes.
"We will place the vehicles and our men at different locations, some of which will be at streets and junctions and others for monitoring and evaluation. We will also step up motorcycle brigade to move round in the streets even when there is traffic."
The post Okorocha unveil 20 urban security vehicles to fight crime appeared first on Vanguard News.