By Emmanuel Aziken, Political Editor
ABUJA—Acting President Yemi Osinbajo, last night,  met with President Muhammadu Buhari in London.
This is coming barely 24 hours after wife of the President, Mrs Aisha Buhari, said hyenas and jackals in her husband's government would be flushed out, following his quick recovery.
The meeting between the two men was broken in a tweet by Mr. Laolu Akande, spokesman for the Acting President at about 7:34 p.m. yesterday evening. No further details were given and attempts to reach Akande for further insights about the nature of the trips were unsuccessful last night.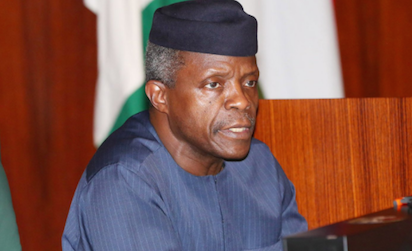 Mr. Akande tweeted thus: "AgP Osinbajo meeting with President Buhari in London today, and returning to Abuja immediately afterward."
President Buhari travelled to the United Kingdom on May 7 about six weeks after returning from an earlier medical appointment.
Acting President Osinbajo was expected to use the opportunity of the visit to clear up issues of state and governance since the substantive head of state departed from the country.
Remarkably, the House of Representatives, yesterday, in a motion asked Osinbajo to inaugurate the ministers who had been screened and cleared by the Senate.
Other issues that have been in abeyance include the posting of ambassadors, who have also been screened and confirmed by the Senate, the report of the investigations into the Nigerian Intelligence Agency, NIA, cash found in a safe house of the intelligence agency in Lagos.
Other issues waiting for the president also include the appointment of boards of Federal Government agencies and issues about the running of the ruling All Progressives Congress, APC.
The statutory meetings of the party's National Executive Committee, NEC, the board of trustees and the national convention have all been held in abeyance largely on account of the ill-health and absence of the president.
The Acting President was also expected also to have discussed the raging issues of ethnic discontent across the country, which reached a climax after a band of some northern youths issued an October 1 deadline for the Igbo to leave the North.
The post Osinbajo visits Buhari in London appeared first on Vanguard News.