By Morenike Taire
To say that Patience Faka Jonathan, former First Lady of our Federal Republic is a colourful woman, is to make a gross understatement.
Physically, as well as sartorially, she represents the very best of her native Niger Delta, which she represented well throughout the tenure of president Jonathan and beyond. She is a woman who exudes uncommon confidence and one who makes the term 'native intelligence' sound like a great thing.
And like virtually every Nigerian First Lady before her, she threw her weight around and basically got her way the entire time. In her own case, she had got more practice than most, having earlier been wife of a deputy Governor, Governor and vice President. In all cases, she had run her husband's affairs with an iron fist and been in the forefront of strategy and articulation of his various campaigns.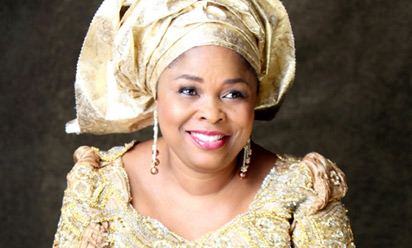 Patience Jonathan is a woman who says whatever she wants to say in whatever manner she wants to say it. She has never had any pretentions to coyness, and the thickness of her skin in the face of criticism and derision is legendary. She had even become Permanent Secretary in a state civil service she had not previously worked in.
Before Patience Jonathan, the wife of the late former president Umaru Yaradua, Turai, had been known to rule over the affairs of her gentle other half in a manner that belied the generally held belief of women from Northern Nigeria being relatively tame. She had, with able help from parties Aisha Buhari would have happily tagged "jackals and hyenas", held the entire nation to ransom during the illness and after the sad demise Yaradua while rumours were rife that she was making a fortune in the process.
Right upon the inception of his presidency, Mohammadu Buhari had sought to diminish- even obliterate- the office of the First Lady, eventually delivering the last nail on the coffin right before the world's most powerful woman Angela Merkel    in his now infamous reference to  za oza room!.  Of course, it is early days yet in determining the success of the ploy. By all indication though, it is unlikely that Aisha Buhari is cast in the same mould as her many predecessors had been. Being not a stranger to affluence, she has displayed none of the avarice and blatant hunger for power of those that came before; while not being a stranger to controversy and audacious speech.
Patience Jonathan is a monster created directly and happily by Nigeria itself; and whether or not that monster will grow bigger or create progeny will largely depend on our determination to kill it.
From all appearances, it appears that determination is waning, if it ever existed. This week,  one of the three-man panel consisting Justice John Ikyeh, who presided over the appeal, Justice Abimbola Obaseki-Adejumo and Abrahim Georgewil, had recused himself from the hearing of an appeal filed by the wife of former President before the Court of Appeal Lagos Division, seeking to stop the forfeiture of her $5.7million and N2,421,953,522.78 to the Federal Government.
The recusion is perhaps politically motivated; or perhaps not. But she is leaving no stones unturned and like Evans the kidnapper, the former First lady had filed a suit against EFCC asking the court for the   "Enforcement of her fundamental rights to own property, fair hearing, human dignity, private and family life and freedom from discrimination."    She had also cried wolf in a claim that her life is under threat in the hands of hired assassins. She continues to move around with a seemingly permanent procession around her.
The court, which had earlier ruled by an order obtained by the EFCC on April 26 from the Federal High Court in Lagos, had her temporarily forfeiting the funds to government. The commission had told Justice Mojisola Olatoregun, who made the order, that the funds were suspected to be proceeds of unlawful activities. It said the N5.7million was part of the $6,791,599.64(about N2.1billion) which Mrs. Jonathan allegedly directed her aides to pay into her account between February 8, 2013 and January 30, 2015, while her husband was President and commander in chief.
If the forfeiture is upheld by the Appeal and Supreme courts, there is every likelihood that the ball will be set rolling in the bid to restrict significant others of high political office holders from dipping their hands in the cookie jar in the persistently clear abuse of power with which they have come to be associated over the years. It will be nothing short of a landmark.
There is no precedence whatsoever, however. Turai Yaradua is home free. Maryam Abacha, Sani Abacha's wife who had been on a belligerent war path with the people of Nigeria particularly concerning funds stolen by her late husband; walks around free, bearing signs that the opulence to which she had become accustomed is not much diminished. For every Maryam Abacha, there is another dozen quietly getting on after years of questionable conduct in office.
The post Patience Jonathan and the future of the Nigerian First Lady office appeared first on Vanguard News.