Michael Phelps' eagerly-anticipated race against a great white shark will keep the USA's swimmers glued to their television screens at the world aquatic championships on Sunday, Katie Ledecky has revealed.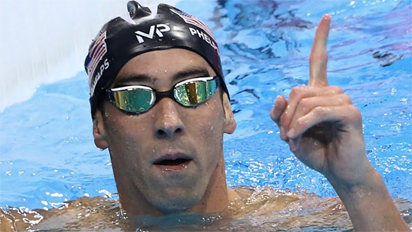 Phelps, 32, nicknamed GOAT – 'greatest of all time' – is the most decorated Olympian in history with 28 medals including 23 golds.
He has filmed a 100-metre race against a great white shark in open water off Cape Town, South Africa, which the Discovery Channel will screen on Sunday.
The outcome of the race remains a closely-guarded secret, but Ledecky says the USA swim team is eager to know if their former team-mate is faster than a shark.
The world championships' swim events start Sunday, when Ledecky looks to defend her 400m freestyle title, but those US swimmers not involved will be following Phelps' shark race.
"We're all trying to see if we can get the Discovery Channel at the hotel, so we could watch the shark race on Sunday," said Ledecky.
The 20-year-old, who will race in six freestyle events in Budapest, says she would love to race butterfly-expert Phelps, who retired for a second time after last year's Olympic Games in Rio de Janeiro.
"I think I have swum maybe one or two practise races with Michael, so technically we kind of have raced," she said in Friday's press conference.
"I would love to, but he has retired and we swim different events, so he would definitely beat me, I don't know if it would be very interesting."
Ledecky admitted the USA team miss having a legend in their ranks.
"We miss Michael, we miss his presence on the team, we're all happy with what he has been doing with the next stage of his life with his family and seeing him doing different things," she added.
The post Swimming: 'Phelps v shark' race has US team glued appeared first on Vanguard News.