…As Saraki, Dogara call for unity among arms of govt
By Levinus Nwabughiogu
ABUJA-Acting President Yemi Osinbajo on Tuesday said that the only justification for the prefix "Excellency" attached to the names of elected government officials and other dignitaries was to build a virile society for the people.
He also stated that the occasion strife between different arms of government was unnecessary as nothing beneficial could emanate from it.
Speaking in Abuja while declaring open the 16th Commonwealth Speakers and Presiding Officers (Africa Region),(CSPOC), the Acting President called for energy between the Executive, Legislature and the Judiciary.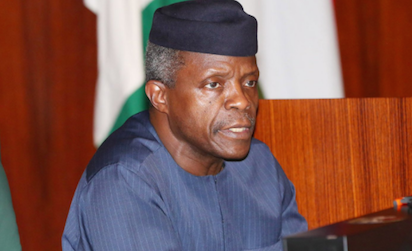 He said that the cooperation was necessary for the good of any country and its people.
He said :"So while we speak of our legislative halls as hallowed chambers, our courts as temples of justice, and the executive villas as corridors of power, all suggestive of grand but isolated institutions. The reality for the majority of our peoples is the  misery of the slums and the indignities of powerlessness.
"So, while we describe ourselves as Excellencies, distinguished and honorable the vast majority our people would in their most polite moments say that they see neither excellence nor much honour in their own lives.
"The leadership positions we occupy is a short lease that providence  and the electorate have given us to shape the present and determine the future of millions and the generations that will be born to them, it would be foolish indeed to think that it is an occasion for self aggrandizement or the pursuit of selfish interests.
The responsibility that privilege and power place upon us is to do our utmost to change the current bleak narratives and projections for our nation and the world.
"It is therefore my submission that the burden that the privilege of leadership places  upon us is that our tenured positions in the executive and legislature must not be wasted on conflicts and division. The problems are too grave, the lives and livelihoods of millions depend on our cooperation we cannot afford to fail."
Citing example of an affinity between the legislature and tjr executive arms in Nigeria, Osinbajo said that the cooperation has brought about self-sufficiency in rice production amongst others.
"And we will be self-sufficient in rice production by the end of 2018. Again because we chose to work together the National Assembly at the request of the Executive appropriated N500 billion for the largest social investments programme in sub-Saharan Africa.
"The fund allows us to engage 500,000 young graduates in our N-Power scheme, to give cash transfers to a million of the poorest in our society and to extend micro-credit to a million market women, artisans, and small businesses.
"It enables us to begin a social housing fund in the sum of N1 trillion with government putting in N100 billion annually.
"The executive and the legislature in the worst days of insurgency also worked together to ensure that adequate provision was made for the military including prompt passing of virements when initially budgeted funds ran short.
"We decimated the Boko Haram as a fighting force, and ensured that they control no part of Nigerian territory,'' Osinbajo said.
Similarly, the speaker of the House of Representatives, Hon. Yakubo who is the chairperson of the Forum said that cooperation between the executive and legislature was imperative for the development of any country. He stated that Africa countries needed to build strong institutions to ensure good governance.
"Africa is in a hurry to develop, it is in a hurry to vanquish poverty, ignorance and disease. Our people have no patience for squabbles between various organs of government and it is the duty of the Presiding Officer to ensure that the Legislature supports the Executive for good governance to thrive while maintaining its relative independence.
"We have been told that Africa does not need strong men but strong institutions. Unfortunately, Africa has been home to strong men who paradoxically relished in building weak institutions to keep them stronger.
"Yet all of Africa's problems be they corruption, socio-Political, economic, etc can only be solved by strong institutions. It is therefore the duty of Parliaments across Africa to free our people from the shackles of strong men by ensuring  that strong institutions replace the later thereby ending this pervasive curse on the African continent once and for all."
In his goodwill message,  Saraki commended the founders of the Commonwealth Parliamentary Association(CPA). He pledged the support of the national assembly in building a strong Africa.
He said: "It has been forty-eight years since CSPOC was formed. Without doubt, a lot of progress has been recorded in terms of advancing the frontiers of democracy and good governance in Africa and in the entire Commonwealth family.
This Conference should provide us opportunity for stock taking. Just how much political progress has been attained in Africa? How do we explore democracy as a potent tool to eliminate extremism and expand liberty and development?
Fortunately, the ideals which Speaker Lamoureux enunciated have been codified in our constitution. We therefore have a template for measuring democratic progress or lack of it, on the continent of Africa.
"Mr. President, Distinguished Colleagues, Ladies and Gentlemen. We recognize that there is wide spread public distrust of public institutions. We also recognize that there is a lot of public misconception and misperception about the functions and contributions of the legislature to development.
Indeed, very few in our society are aware of the numerous legislative interventions aimed at responding to national economic challenges, addressing poverty and rebuilding infrastructure. This has led to a high turnover of legislators after every electoral cycle.
Accordingly, it is our responsibility to step up public enlightenment on the relevance of our responsibilities and our contribution to nation building.
"As you are no doubt aware, the legislature is the only arm of government that conducts its business in the open. This perhaps accounts for the special interest that its activities have generated.
In Nigeria for example, purchase of a single car for a legislator is likely to generate so much heat in the media and the public arena whereas, a non-elected minister of government can move about with a convoy of cars and retinue of Aides without similar interest.
I however do not consider this as a disadvantage but a call to higher service and accountability. I am convinced that we shall not disappoint our citizens who have placed high expectations on us.
"Let me on behalf of the National Assembly of Nigeria; renew our unflinching commitment to our partnership and collaboration with the other arms of government. Let me also reiterate our evolving goal of taking lawmaking back to the people especially.
We are fostering this commitment with proactive engagements with civic groups, professional bodies, international development partners and various stakeholders with the sole aim to impact our people's lives positively.
As we have articulated in both the Senate and House Legislative Agenda for the 8th National Assembly we are committed to accountability and transparency at all times."
The conference held at ECOWAS Parliament in Abuja had its theme as "Presiding officers in a changing society".
It is attended by presiding officers  from different 11 African countries.  The countries included Bostwana,  Cameroon, Ghana, Lesotho, Namibia, Nigeria and Sierra Leone. Others are South Africa, Tanzania, Uganda and Zambia.
The post There is no 'Excellency ' in us if…Osinbajo appeared first on Vanguard News.