By Ayo Onikoyi
Although the travails of the women have been x-rayed in several media outlets, little has been said about their immense contributions to human survival. One can only imagine life without women. Former Secretary General of United Nations, Kofi Annan's glowing tribute in this regard is very profound. He stated that ''when women thrive, all of society benefits, and succeeding generations are given a better start in life''. Today, more women are writing their names in gold. Like other women who are breaking the artificial barriers foisted on them by the society, Oluwaseun Aina and Kathy Brodsky have thrown their weights around a worthy course.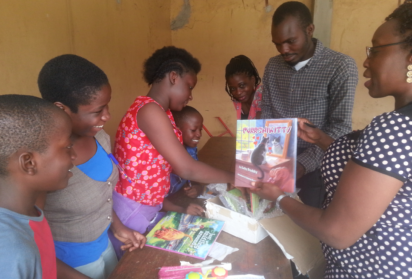 Their meeting was magical. Oluwaseun Aina, a Nigerian literary critic and coach, had attended the 2016 edition of the International Literacy Association Conference, a Global Reading Network in Boston, with the intention gaining better exposure to children literature. Back home in Nigeria where she runs a Magical Book Club, she has had to contend with myriads of challenges noticeable in Children's books. They were either not interesting, error-prone or having poorly illustrated pictures.
Aina was going from booth to booth networking with publishers and authors when she came across American author, Kathy Brodsky's booth. Brodsky is a Licensed Clinical Social Worker who also writes and promotes quality books that are timely, visually exciting, entertaining, educational and fun. As a psychotherapist for over 40 years, she has been able to tap into universal emotions of people of all ages with themes that are evident in her books. Teachers have often used her messages to further social awareness in their students. So far, Kathy's books include Moments in Our Lives, The Inside Story, Just Sniffing Around, Purrsnikitty, A Horse Named Special, Stover, The Winner Is and A CatFish Tale Spanish edition – El Cuento de Don Gato Pez.
Brodsky's books have won multiple awards, including Book of the Year from Creative Child Magazine in 2011, 2012, 2013 and 2016. She was also voted into the Top 10 in the International Literacy Association and Children's Book Council's Children's Choice Reading List. Each year, 12,500 school children from throughout the United States read newly published children's and young adult books and vote for their favorites — Brodsky was selected for this elite list in 2014. Initially, Brodsky had given her newest book, High Wire Act to Aina during the conference. However, she also decided to donate the rest of her books after an engaging and exhilarating Skype session with children at the Magical Book Club.
Aina, who bagged Bachelor's of Science degree in Mass Communications at Bowen, began Magical Books Club on the 14th December, 2009 during her Master's degree programme at the University of Ibadan. She surmised that ''my Master's thesis which was aimed to improve children's reading comprehension was titled Enhancing Pupils' Reading Comprehension through Direct Instruction and Cooperative Learning. While on the field, I had some challenges in really testing the effectiveness of these techniques on some participants in the experimental group because they had difficulty reading''.
The grand motif that birthed Magical Books Club as Aina was to expose children to the art of reading and use the knowledge gained to empower themselves and those around them. Little wonder the Book Club has positively impacted over 200 children till date. She believes that when children 'fall in love' with the art of reading, they would inadvertently become better readers and leaders.
Aina was worried that despite the fact that these children were supposed to have attained the stage of reading, most of them still had difficulty 'learning to read'. Aina said that ''at this point, it occurred to me that the notion that most people regarding children not loving to read might just be misconstrued. 'Struggling readers' abandon reading all together because it's such an effort for them with no one around to make the reading process enjoyable''. Hence, Kathy Brodsky's highly imaginative and picturesque books have become very useful for Magical Book Club.
Brodsky believes Nigeria can market her culture heritage through story telling. ''Nigeria has a rich history of storytelling that needs to be shared with the world. In particular, more children's stories need to come out of Nigeria. There are thousands of verbal stories handed down generation to generation that need to be captured in writing as the continent of Africa is unique to the world in so many ways''. Kathy makes use of rhymes which helps her to communicate so much in a few words. She writes with the aim to build children's vocabulary by including new words that will form part of their word set. Also, her books are also beautifully illustrated. Furthermore, they are peculiar because her characters feature in other books she writes. These characters are typically not human beings. They can be animals and non-living things.
Aina stated further that ''Kathy also writes with the intention of actively involving her readers. Children are encouraged to think deeply about themselves, their environment, research, write, draw, sing and do much more especially through her question guide at the end of each of her books. Kathy also fosters a deep connection with her readers by sharing events that led to the development of each story. I believe this will encourage her readers to write too. Her books can also be enjoyed by both children and adults. There is always something to learn for both groups''.
For Brodsky, her foray in to the beautiful and escapist world of literature started on her mother's birthday party and a little poem she wrote for the family invitation. Since then, she discovered that writing was fun, and has continued churn out soul-searching books with universal themes and appeal. Brodsky was a psychotherapist for most of her adult life; it was not until when she was in her mid 50's that Brodsky discovered new and exciting things about her profound taste for literature. Also, Brodsky's exquisite picture illustrations in her books contain life-skills discussion questions that promote further dialogue for young readers and adults alike.
Aina has a nugget or two for Nigerian authors who specialize in children literature with regards to Brodsky's books. She avers that ''Nigerian authors who specialize in children literature can learn the art of presenting their books in such a beautifully illustrated package. They should not also limit the capability of children and include few "big" words to widen their vocabulary. More so, Nigerian authors can learn to develop questions that spur deeper levels of conversation and literacy''.
Kathy's son, Jeffrey Brodsky had interviewed former President of Nigeria, Olusegun Obasanjo in New York City. Brodsky also reveals that ''Jeff shared his insights from that interview with me and I learned so much on a personal level about the people and the government of Nigeria than I ever imagined possible. Jeff was working on an oral history project at Columbia University where he was interviewing Heads of State from around the world. President Obasanjo was one of the many fascinating leaders that Jeff spent time interviewing''.
Some of the thematic notions in Kathy Brodsky's books apply to some prevailing issues in Nigeria today. Aina said that ''readers from all over the world which includes Nigeria can relate to the themes and issues raised in her book. Some of them include friendship, empathy, kindness, compassion, tolerance, strength, survival, positive attitude, and courage. Her books also encourage research, recycling, conservation, healthy lifestyle amongst others''. Brodsky bears her mind about her motivation for donating her books to Magical Book Club. ''I felt this program was especially important because it is bringing something about literacy to a population that is being ignored. Reading is the basis for every type of learning and if a person can read, "the sky is the limit" in terms of their knowledge.
Children who attend Magical Book Club are already enjoying Brodsky's books. It has opened newer vistas of knowledge and experience to them. Aina stated that ''Kathy's books are very relevant to Nigerian schools and book clubs. Children who read her books learn more about themselves, and their environment. Her books also have questions at the end to help spur discussion between parents/teachers and children. These questions are thought provoking and are uniquely woven to help children get a deeper sense of themselves, and important issues we can relate with''.
Ademola Tiamiyu, 11 years old also reflects on High Wire Act. ''It teaches us the importance of traffic lights on busy streets and intersections. The winner is… teaches us that we should try not to be like someone else. We should be happy with who we are''. Also, Zahra Adesina-Aderonmu, 12 affirms that ''Stover is about a fit pig that eats healthy and exercises daily. This teaches us to keep fit''. Aina shares her success story: ''I am always excited when parents give positive feedback on how the programme has impacted upon their children's love for and attitude to reading, academic performance, entrepreneurial awareness and social skills''.
Aina believes that there are still gold mines in the Nigerian literary space that authors can plug into. ''We also need to write and publish Nigerian literature for babies and toddlers. It's very crucial to encourage early childhood literacy. That way, we get to build strong readers at an early age''.
The post Two Women on a Mission appeared first on Vanguard News.