BY OSA AMADI
The 2017 edition of Felabration, an event which annually celebrates the life and works of late Afro Beat king, Fela Anikulapo Kuti, has been scheduled to kickoff on October 9 and last till October 15. This year's event, announced in a press conference held at the Kalakuta Museum, Ikeja, Lagos  on August 2, is titled The Prophecy , with promises to be grandiose.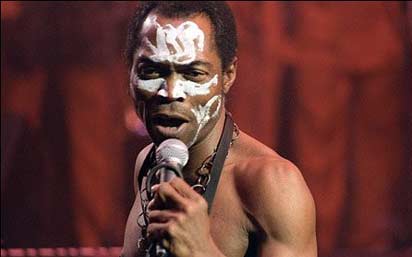 At the press briefing , Yeni Kuti, Fela's daughter, vehemently defended her father's musical invention and legacy, the "Afro Beat" without an 's'. TraceNija has  tried to broaden the Afro beat concept by adding 's' to it in line with the new age Afro pop  genre.  But Yeni said anything outside Afro beat is Afro hip-hop, an adaptation of the original, which cannot be the original. Still, TraceNija argues that Afro beats are still Afro rhythm refined. But Yeni stood her ground, saying Fela had knocked her head several times over the attempt by others to mess up his legacy.
The briefing had in attendance, members of Felabration committee which include Dotun Ransom- Kuti, Nike Nedum (Nee Ransome-Kuti), Yeni Anikulapo Kuti, Theo Lawson, Kunle Ransome-Kuti, Funke Ransome-Kuti and TraceNija representative. Dotun said Fela died 20 years ago and that the celebration has been happening for the past 19 years.  "We call you all today to tell you what our plans are and how to make this year's event a special one," he said.
Theo Lawson, chairman, organizing committee, 2017 Felabration, said "This year's event is special because Lagos celebrated 50 and it is 40 years after FESTAC and 20 years since Fela passed on. This is in remembrance of the legacy Fela stood and fought for in his life time. This year's theme is 'The prophecy.' We decided to look back at history to see what has changed as Fela sang that 'I don sing am before, nothing new'. Twenty years ago, Fela sang those songs and things are exactly the same. No bread, no water, no light. We have to move from talk to affirmative action," Lawson said.
Continuing, he said; "We are very happy to say that Lagos state has promised to join us this year as we plan to celebrate Fela like never before. Lagos State government will co-sponsor the London event that will start from Nottingham London Carnival. The significant of Nottingham Carnival is in tandem with Fela's 1984 arrest and the subsequent protest that happened in that place at that time. We are taking the Felabration to Nottingham to identify with the struggle and protest then.
Other scheduled activities include tourist package that will involve visits to old Kalakuta shrine at Moshalashi, Ikeja and his home town Abeokuta, Ogun State; fund raising, live streaming at the shrine and more big concerts on the Lagos Island. Speakers will include Donald Duke, Ben Bruce, Femi Gbajabiamila and others, with Prof. Patrice Lumumba, an erudite speaker who is a voice on corruption, as special guest speaker.
There will also be school debates that will focus on Art and History' in school curriculum. International art competition from across the globe, Afro beat dance competitions and 'dress like Fela' beauty pageant that will take place in front of kalakuta museum. Felabration has been listed as top 300 events in the world.
One question people have consistently asked is: if Fela had been alive today, what would he sing about? "He will laugh because he told us the truth and we didn't believe him," said one of his teeming fans. Another said he would have done multiple remix of 'International thief, thief, while one other said he would sing 'restructure, restructure, restructure.'
Many  who attended the press briefing nostalgically recollected the Abami-Eda's philosophical quotes in his songs.  One said in flat tone that if Fela were here, he will not sing anything anymore because he has said it all. While another person quickly added  that perhaps, his new remix would be 'Which kind change be this o?!
Fela has been described as one man that means a lot to different kinds of people. He is a grand innovator, an ordained prophet, because everything he said over 20 years ago is coming to limelight now. He is also an enigma, a cultural ambassador, a political activist, a protector of African woman, art innovator, maverick leader, unusual music icon of whom it will be very difficult to fill his space. Fela released 182 songs, and each of the songs is very different from one another with different messages.
The post Big plans for 2017 Felabration appeared first on Vanguard News.