By Jeremiah Urowayino
WARRI—Member representing the Warri Federal Constituency in the House of Representatives, Mr. Daniel Reyenieju, yesterday, kicked against the rejection of 'devolution of power' by the National Assembly in the ongoing 'Constitutional Amendment, calling it  a collective  mistake by members of the House, which if not revisited and remedied will become the bane of peace and development in the Nigerian state.
The lawmaker made this disclosure in a chat with Vanguard, yesterday.
Reyenieju expressed utter disgust on why the National Assembly as a collective would opt for an unnecessarily over bloated federal government at the expense of the federating units, consequently undermining the universal principle of federal arrangement which we claim we are practicing.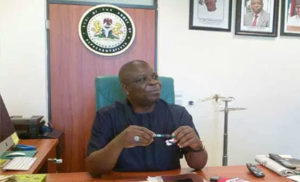 He lamented the untold hardship that his constituency suffers as a result of the present lopsided federal arrangement.
The lawmaker also noted that his constituency suffers grave marginalisation in the oil industry, despite the fact that the Warri Federal Constituency remains the first in terms of oil bearing and producing in the country, the two sea ports of Koko and Warri have been left to waste with the Nigerian Ports Authorities turning a blind eye, despite all entreaties.
" As long as this current arrangement which borders on unitary political structure persists, the country will remain vulnerable to crises of different dimensions in the form of  disunity, political instability, underdevelopment, separatist agitations  among others; such that  it will continue to threaten Nigeria's  survival as a united country."
"If the National Assembly has voted for Nigeria's devolution of power, a less-burdened federal government will emerge and it will bring about component units that will be dynamic, entrepreneurial, innovative and ambitious; as against the present  of over-burdened federal government, with component units that are inherently beggarly, and thus  dis-empowered to be innovative and creative"
However Reyenieju is  optimistic that the National Assembly will revisit the issue given the bitterness and instability that the action of the National Assembly is generating
The post Constitution Amendment: Why there must be devolution of power by Reyenieju appeared first on Vanguard News.