By Dayo Adesulu, Elizabeth Uwandu & Kelechukwu Iruoma
STAKEHOLDERS in education sector have renewed their reactions two weeks after an overwheming majority of the Senate voted for deletion of the National Youth Service Corps, NYSC, Decree 1973 from the 1999 constitution. The purpose of the removal is to enable easy amendment, whenever it becomes necessary. During the Senate constitution amendment votes, 33 issues were raised for amendment. One of those issues was to delete the NYSC from the constitution. During voting, 88 senators voted for deletion of the NYSC scheme from the constitution, while three voted against the removal.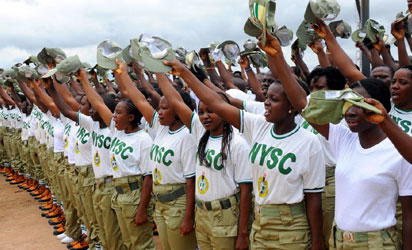 As it stands, if the amendment passes through all the processes and gets the president's assent for amendment that would probably mark the end of NYSC scheme. However, experts have argued that there are some factors that need to be considered while considering the scrapping of NYSC scheme. Before scrapping the scheme, the Senate should take into consideration that there are 36 NYSC camps in the states of the federation, as well as the Federal Capital Territory.
Each of these state NYSC camps has workforce working for the day to day running of the scheme. If multiplied the number of NYSC officials in all the states would run into thousands. It suggests they will lose their jobs. Many youths who reacted to the news posited that the scheme must not be scrapped during their time, adding that the monthly allowance means much to them. However, since the Senate action, Nigerians have been divided into two camps. With one camp advocating its removal, the other voted against the removal.
NYSC breeds inequality
In her reaction, a corps member serving in Ondo State, Miss Chiamaka Uwandu, said the removal of the scheme from the constitution was long overdue as it not only bred inequality and bureaucracy, but also served as an avenue for economic loss. She said: "The scheme breeds inequality. This is because a great variation is seen among corps members whose primary places of assignment, PPAs pay them while others do not get a dime from their PPA.
"This results in many corps members beingworse off than they were before the service, as they have to strive to survive throughout the month with the little stipend of N19,800. Besides, why do some states pay their corps members while some don't. It is unconstitutional…it is either all states pay or no one pays. More so, bureaucracy and redtapism has taken a huge grip in the posting of corps members as members with connections are posted to good places where they can enjoy lots of opportunities including employment , while others who have nobody are left to rot in remote villages.
Corps members not interested in national service: "Again, the purpose of the scheme is now being defeated as members are no longer interested in serving their nation but enriching their pockets. The only thought in member's  minds is how to secure a good PPA where they can be better off in terms of  pay and accommodation,it is no longer how and what can they do to help in the development of the country.
"The quest to enjoy for a full year, travel around is now the order of the day. While many disadvantaged members have taken to little genuine businesses for survival, some have engaged themselves in illicit and illegal businesses just to survive with the mindset that 'I must not leave this service year empty handed.' While some have encountered positive changes during their service year, many have  not been that lucky.
"The economic situation prevalent today is a good indication that NYSC should be scrapped because the monthly allowance is not enough to cater for the monthly needs of members, given the increasing prices of goods and services. Since the governments are not ready to increase the allowance, it should be scrapped than allowing our youths to suffer in untold silence. Furthermore, with the increasing rate of corps members dying in various states, it is better that NYSC be scrapped to prevent more bloodshed."
NYSC scrapping long over due
On his part, the senate president, National Association of Nigerian Students, NANS, Comrade Taiwo Bamigbade, said the removal of NYSC was long over due as the service has lost the main aim and objectives that informed its establishment. He said: "We strongly advocate the replacement with a special graduate scheme where graduates will be given some amount of money after graduation."
Instead of the NYSC scheme, Bamigbade called for the establishment of a graduate security scheme that will provide graduates with funds to start business. "Graduate Social Security Scheme law should be enacted. Graduates should be given certain amount of money at the year of graduation to start a business or other ventures."
Moreover, the president, Political Arena, a social activist group, Uche Emmanuel Ogechi, and a Masters student at the University of Lagos, Akoka, said he was in support of the scheme from the constitutional point of review. He said, "NYSC scheme has exceeded its usefulness and as such now constitutes a waste of national resources. I am fully in support of its removal as its existence and sustenance is a waste of the nation's resources. Remember that only less than 10 per cent of those who pass out of the scheme every year are retained  in their PPAs."
For Ebi Asingba, a final year student of Olabisi Onabanjo University, Ago Iwoye, said if the NYSC is scraped, it will be to her favour because she never liked it. "I feel it is nothing but a waste of time, energy. Within a year after school, there are so many things a graduate can get involved in so as to start up a living instead of going for orientation camp, risking their lives travelling for a year service. I believe it is nothing but a waste of time."
 NYSC gives opportunity for job
Also, Akachi Efughi said he felt the NYSC has given graduates the opportunity to get jobs. "A lot of corps members get job experience during their service not to mention the fun in camp. I hope it is not scrapped. If they want to change anything, they can increase the allowance. It's not going to make any difference if NYSC is scrapped or they choose to leave it there. What I'm saying is that there is no guarantee for employment after NYSC and even after they scrap it there will still not be employment."
Kelechi Chukwuma said "Basically lots of corps members have lost their lives in the guise of serving their country and even after their death the country is not botherd. So what's the use? Why put youths who are the future leaders at such great risk?
"It's not like they are well paid, after all after spending four to seven years in school as the case maybe, only to pay them what is not even up to the school fees they paid in school. I would ask that governments channel their energy and resources into creating employment for their youths than putting their lives at  risk. Why post youths to places where their lives are endangered? The government should be protecting citizens and not putting them at such a risk."
NYSC reduces suffering rate
Chime Vivian, a final year student at the University of Nigeria, Nsukka said, "I am saying it should not be scrapped, because it will reduce rate of suffering. However, deployment should be done according to geopolitical zones. Why I wouldn't advocate for it to be scraped is because some people get to  save from the little stipends they give them to start up something for themselves after service.
"I know of someone who saved money that helped him start up something after his service. If you're dedicated and diligent and not see the allowance  as too small, you can make do with it for yourself. Corps members also get retained after service in some companies. I know of a guy that worked at Nigeria Breweries Public Relations Department for his service. At the end of the day, he was retained.
Paul Okoye from UNN said, "I urge the government to calculate all the allowances for a year, and pay it to graduates at once to enable them to use for business startups.
On the contrary, Oso Nonso, a student of Delta State Polytechnic said: "if NYSC is deleted, it will be very bad because the NYSC programme is an avenue for graduates from different institutions and states in the country to get together."
The NYSC programme is a medium where youths come together to serve their fatherland. "NYSC should not be scraped in anyway, it is a programme that unites youth from different institutions together and it is a programme that helps the youths to carry out their obligations as citizens."
The post Discordant tunes trail bid to remove NYSC scheme from Nigerian constitution appeared first on Vanguard News.