AFP Sports list five of the most memorable track races featuring Jamaican Usain Bolt, who brought down the curtain on his glittering career on Saturday.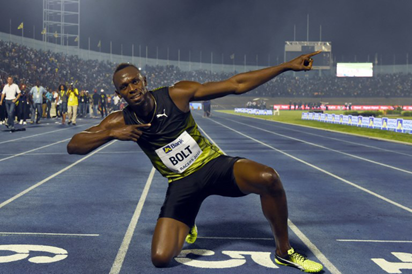 Aug 20, 2008. Beijing 200m
Bolt's arrival on the global stage was confirmed with a sensational run in the 200m at the Beijing Olympics. Just days after winning the 100m in a then-world record 9.69sec, the Jamaican won over legions of new fans by sprinting to victory in 19.30sec, beating American Michael Johnson's long-standing world record. "I worked so hard to become champion and I will work harder to stay at the top," Bolt said.
Aug 16, 2009. Berlin 100m
After overcoming a false start in the semi-final, Bolt delivered his best-ever performance in the 100m. Covering the first 60 metres in an unprecedented 6.31 seconds, Bolt did not ease up and in 41 strides streaked through the finish line in an amazing world record of 9.58sec, a mark that will likely be unchallenged for many years to come. He followed that up by bettering his 200m to 19.19sec just days later. "For me, anything is possible," Bolt said.
Aug 28, 2011. 100m Daegu
The defining moment of the world championships in South Korea was a false start by Bolt, gifting the 100m title to teammate Yohan Blake. The non-result is Bolt's sole hiccup on the world stage. "Looking for tears?" Bolt asked. "Not going to happen, I'm okay."
Aug 14, 2016. 100m Rio de Janeiro
After winning two more world golds in the blue riband event, Bolt raced through to an unprecedented treble of three consecutive Olympic 100m golds, an astonishing achievement in an event where injury often puts pay to a long string of victories. After winning the opening 100m in Rio, Bolt said: "Somebody said I can become immortal. Two more medals to go and I can sign off. Immortal." Needless to say, he bagged two more golds.
Aug 5, 2017. 100m London
Bolt opted to compete solely in the 100m at the London worlds in his swansong season. But the dream of a fourth title was broken by American arch rival Justin Gatlin, who has served two bans for doping. Gatlin's teammate Christian Coleman snatched silver, with Bolt taking bronze. But it was Bolt who was received like a hero at the London Stadium while Gatlin was roundly booed and jeered. "It's not the perfect script," admitted IAAF president Sebastian Coe. Bolt was incredibly gracious in defeat, which saw Gatlin bow down on one knee before him after the race. "The first thing he did was congratulate me and say that I didn't deserve the boos. He is an inspiration," Gatlin said of Bolt.
The post Five memorable races featuring Usain Bolt appeared first on Vanguard News.