By Yinka Kolawole
TIMBOLO Auto Care is an integrated automobile service provider offering services in auto part sales, automobile repairs and restoration, extended warranty plan, Timbolo preventive maintenance scheme (TPMS), vehicle data management, automobile procurement and retail, Timbolo vehicle inspection report (TIMREPORT), fleet maintenance, road side assistance, and training and consultancy services.
The company was one of the beneficiaries that received loan from the LSETF in February 2017.
Speaking on his experience, CEO, Timbolo Auto Care, Justus Obaoye said he learnt about the Lagos State Employment Trust Fund (LSETF) from FATE Foundation, an entrepreneurship training and mentoring organization.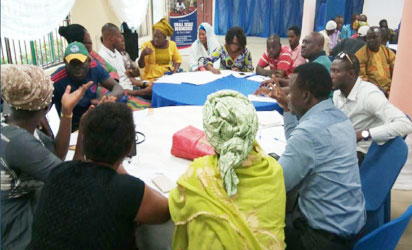 His words: "We got the information that Lagos state government was set to support micro, small and medium-scale enterprises (MSMEs) in the state with very low interest loan and other business support services through LSETF. We applied for the fund with lots of doubts but to our surprise, we got a call for an interview a few weeks later, and the fund was disbursed as promised."
Obaoye said LSETF has helped in the expansion of Timbolo Auto Care with the setting up of a well-equipped automobile workshop that has repositioned the company to serve more corporate clients. "We have also benefited from business support services in form of trainings services on various business aspects. When compared to the previous year, our corporate clientele base has doubled and our revenue has increased significantly with more business visibility. Very importantly also, the loan application process, though simple and straightforward, also helped expand the team's workforce as the business has been able to hire new full-time and contract staff for its operations," he added.
According to him, since receiving the loan in February, new technical and non-technical staffs have been added to his team, adding that at least 3 entrepreneurs have been mentored by Timbolo Auto Care thanks to the loan application. He also said the firm plans to engage five additional technical staff to meet the demands of its expanding service portfolios and needs of increasing clientele.
Obaoye commended the Lagos State government for promoting entrepreneurship by improving access to finance while also providing business support services through LSETF.
He stated: "Many MSMEs typically struggle with the necessary business capital required to fund all of their projects. In addition, depending on the lending requirements from certain financial institutions, it can be even more difficult to access the financing needed to sustain the business, expand operations and hire new workers. These problems break MSMEs, and many times, companies may have to close down because they can no longer remain profitable at their current levels of operations and there aren't enough financial resources available to help them change course or re-strategize for success."
The post How LSETF helped boost my business – CEO, Timbolo Auto Care appeared first on Vanguard News.