By Victoria Ojeme
As the world marked Breastfeeding Week, UNICEF said that more than five million newborns in Nigeria are deprived of essential nutrients and antibodies that protect them from diseases and death as they are not being exclusively breastfed.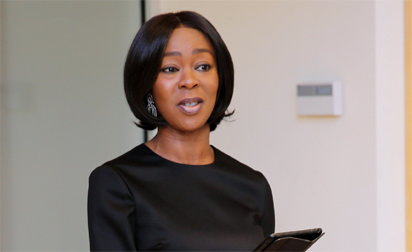 Approximately seven million children are born in Nigeria every year.
According to the 2014 National Nutrition and Health Survey, only 25 per cent are exclusively breastfed from 0-6 months of age.
Exclusive breastfeeding is a situation whereby a mother gives no other food or drink, not even water, except breast milk.
Nigeria is said to be making progress in exclusive breastfeeding very slowly.
Over ten years, Nigeria has increased its exclusive breastfeeding rate from 12 per cent to only 25 per cent.
By comparison, Nigeria and Ghana were said to have had both exclusive breastfeeding rates of 7.4 in 1994 but by 2013 Ghana had moved up to 63 per cent.
Experts say Nigeria's lack of progress in exclusive breastfeeding denies millions of newborns in Nigeria the benefits of breast milk. Research also shows that an exclusively breastfed child is 14 times less likely to die in the first six months than a non-breastfed child and that breastfeeding drastically reduces deaths from acute respiratory infection and diarrhea; two major child killer diseases.
The National Food and Nutrition policy 2014- 2019 has a strong exclusive breastfeeding component and while UNICEF has welcomed the policy it urges the Government of Nigeria to include a budget line for nutrition in the health sector budget and a timely release of budget for immediate programming.
It was against this backdrop that the wife of the Senate President, Mrs Toyin Saraki, has declared 2017 as the year to bridge the gap in exclusive breastfeeding by Nigerian mothers through her pet project, Wellbeing Foundation Africa, WBFA.
As part of the efforts set to achieve the goal, she said the Foundation had titled this year's campaign theme as: Sustaining Breastfeeding Together.
WBFA, as a non-governmental organization, mainly works through advocacy; healthcare provision and health promotion; awareness-creation; strategic policy advisory;  community and social mobilisation; and philanthropy.
Saraki said part of the marshal plans of the foundation is to educate breastfeeding mothers on the benefits of breastfeeding both to them and their babies and how breastfeeding will help them stay away from some particular illnesses for the mother and the baby too.
"We are doing basically education and showing them what we will help breastfeed their baby well.   For working mothers they have a problem with expressing their milk so we are encouraging mothers to express their milk with the Mandela product breast pump both the manual and the electrical breast pump, to help mother express good quantity of milk to serve the baby while the mother is not with the baby," she added.
According to her, the importance of breastfeeding in preventing deaths of children in low- and middle-income countries (LMICs) is well recognised and documented in the Foundation.
Scaling up breastfeeding, she said, could annually prevent approximately 800,000
deaths of children under the age of 5 years.
In Nigeria alone, 98 per cent of new mothers initiate breastfeeding; however, by six months, only 25 per cent of them are still exclusively breastfeeding.
Breastfeeding reduces the risk of infections and poor growth, and it is also a perfect way to bond with the baby.
Studies have shown that breastfeeding is equally good for the mother as it lowers the risk of   developing breast and ovarian cancer. Mothers who breastfeed find it easier to lose the weight gained during pregnancy.
She also explained that the Wellbeing Foundation Africa's Mamacare Antenatal and Postnatal Education Program's findings have demonstrated that midwives are crucial and well placed to support mothers breastfeed thereby creating a healthy community.
UNICEF Nigeria Chief of Nutrition, Arjan de Wagt,   said babies who are fed nothing but breastmilk from the moment they are born until they are six months old grow and develop better. Breast milk according to him,   gives a child a head start in life and a chance to fight child malnutrition later in life."
The post How we're bridging the gap in exclusive breastfeeding — Toyin Saraki appeared first on Vanguard News.