Senator Stella Oduah has said that the Nigerian police was currently performing above expectation and should not be blamed for the seeming under-performance or high rate of crimes.
Speaking in an interview with newsmen in Abuja, Oduah, a member of the Senate Committee on Police Affairs, described members of the Police Force as "miracle workers".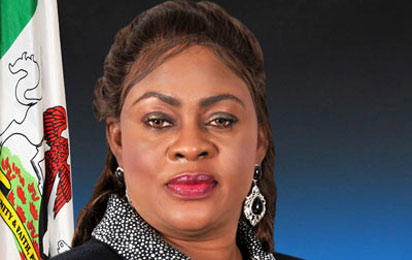 She stressed that given the kind of money they are paid and the allocation they get for equipment and training, nobody should expect anything better than they already do.
"I say this with all sense of responsibility, the truth is that the Nigerian police are miracle workers.
"If you look at how much they are being paid, if you look at the equipment, if you look at their number and you look at the total population, then you look at the budget that is given to them, how they even survive I have no idea.
"Anybody that happens to be an IG of the Nigerian Police or the DIG Operations, they are miracle workers to manage with that tiny resource.
"Often when they bring their budget, because the resources is not there, it is slashed so they end up getting sometimes 30 per cent of what they need that will barely give them sufficient fuel for their vehicles.
"The vehicles too are not even sufficient. The arm force, the human resources is so inadequate: We are about 170 million people, how many Police do we have?
"So I think and I tell them often, I don't know how they are able to do so but I think several things need to change," she said.
For a change Oduah advocated a special funding mechanism for the police such that they are placed as first line recipients of their annual budget.
She added that the need for the police to recruit adequate staff was long overdue stressing that the force should also be allowed to conduct its own recruitment whenever the need arises.
"The legislatures must pass a law to give them direct access to fund meaning that they must be first line item beneficiary. That means we must create a police trust fund.
"We must make sure that they are allowed to  recruit enough men and they must prioritise training but they need the money for the training.
"If we do not equip the Nigerian Police, if we do not give them the money to train police, if we do not give them the money to buy equipment and  for welfare of men and women of the force, frankly we cannot complain," she said.
On state policing which had been on the front burner in recent times, the Senator said that community policing would serve Nigeria better.
She said that if every community took note of happening around them and dealt with them before they escalate, insecurity will be at its lowest ebb.
"I do not think that we need state policing now, however i think that we need community policing now.
"I believe that if we have community policing, in your community for instance, if a stranger comes to your community you will know and you will raise alarm.
"First they will try to drive them away in their own way, when they fail they will call for reinforcement.
"If we do not practice community police in thie way then we will have issues where the harm will be done before we know what is happening.
"But if we have community policing we will start nipping them before they even become issues," she said.
NAN
The post Insecurity: Policemen work miracles, don't blame them – Oduah appeared first on Vanguard News.