By Bashir Bello,  Daura, and   Emmanuel Ebeleke, Abuja
Charly Boy adamant: No going back on sit-in
Daura, Katsina State, the home town of President Muhammadu Buhari, was one huge praying ground when  Sunday  Vanguard  visited the place last Friday afternoon.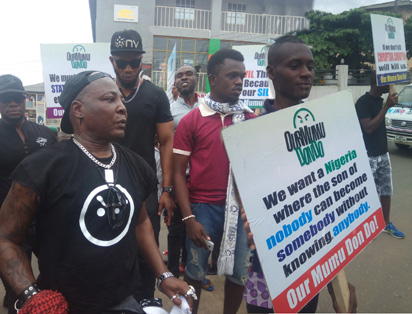 It was not unusual that many streets of the town were deserted and most business premises closed.
Being a predominantly Muslim community, most of the residents were in the mosque to observe the Juma'at prayers.
The residents obviously prayed for themselves at the Juma'at.
But, more importantly, like they did last Friday, they had not stopped praying for Buhari, their son, since he took ill and had to be flown to the United Kingdom (UK) for treatment.
The President departed Nigeria for the current round of treatment on May 7.
Whereas Vice President Yemi Osinbajo has been in acting capacity, Buhari's continuous absence in the country has been generating furore with the latest being the sit-in embarked on by a group of activists in Abuja, the Federal Capital Territory, asking the President to return or resign from office.
The group, led by popular artiste, Charles Oputa (aka Charly Boy), and Deji Adeyanju, under the aegis of  Our MumuDonDo, battled the police and some pro-Buhari groups, who also held rallies, most of last week in the FCT.
Although Buhari's kinsmen said their pre-occupation was to pray for the President's quick recovery, when  Sunday  Vanguard  visited the town last Friday, they had strong words for the 'Return or Resign' protesters.
For instance, one of the President's classmates in primary school, Alhaji Leko Mato, lashed out at the protesters, saying it was not a crime for Buhari to be ill.
The Mato, who is the Yarin Daura, described the protest as politics and the handiwork of those trying to get the President out of power at all costs.
The Women Leader of the All Progressives Congress (APC) in Katsina State, Safiya Daura, said the activists were protesting for their personal interests, saying they should not be taken seriously.
The leader of a youth group in Daura Emirate, Buhari Youth Congress for Change (BYCC), Musa Badamasi, said the anti-Buhari agitators were enemies of progress.
One of the Imams who led a mass prayer for the President in February, when he went for the previous round of treatment, Khalifa Sheikh Nazeer, said Daura natives were not relenting in their prayers for Buhari.
The Chief Imam of Angwan Madina, Kofa Baru, said he was not praying for the President because he is from Daura but because he is the leader of the nation and whatever happens to the head affects the whole body.
Politics
Mato, Buhari's former classmate, while criticising the  Our MumuDonDo  protesters, told  Sunday  Vanguard: "It is all politics.  It is those eyeing the President's office that want him to resign so that they can take over. If not, is it a crime for one to be sick? It is Allah's making and He will heal him. We are praying for his speedy recovery.
"Those calling for his resignation are those who don't like him.
"All we know is that he is recovering and will return home shortly.
"We are always praying for the President's quick recovery, whether in the mosques, wedding or naming ceremonies and we believe that life belongs to God and not the protesters."
Enemies of progress
The leader of the Buhari Youth Congress for Change, BYCC, which staged a rally in support of Buhari when he was away during his first medical trip, Badamasi, described those protesting as enemies of progress.
"It is a fact that President Buhari is a person who abides by the law and respects the constitution. Before he left for the medical trip, he followed due process. And this the National Assembly testified to, that he did not leave the country without following due process. He wrote notifying the National Assembly of his vacation for medical treatment and assigned power to his Vice, Yemi Osinbajo, to be Acting President while he is away", he said.
Badamasi continued: "I don't see reason why they should keep on disturbing him when he has fulfilled all conditions and not violated the law. It is when he failed in all these directions and everything is at standstill that you can disturb him. But if it is not hatred, what will make someone disturb Mr. President?"
'Don't take them serious'
APC Women Leader in Katsina State, Safiya Daura, said those asking Buhari to return or resign are doing that for their personal interests and should not be taken seriously.
"Those who staged the protest are not up to one per cent of Nigerians and should not be taken seriously. If you look at it, it is not President Buhari's health that is their concern but their personal interests. Because if they are among those who queued under the sun to vote for President Buhari, certainly they will not do what they are doing because they will value the struggle they passed through and pray for him to get well and fulfil the promises he made to them", Safiya stated.
"And if they based their protest on the fact that he has stayed too long, he has fulfilled all conditions to warrant his staying away from office. Because there is a law that if Mr. President is away and fails to delegate power to his Vice, it is binding that he resigns. In this case, no law is violated by Mr. President. And any right thinking person will not stage such protest. Instead, they should pray for President Buhari, because no one is above ill health. Anyone can fall sick."
Prayers
Khalifa Sheikh Nazeer said he was not relenting in prayers for Mr. President.
The Chief Imam of Angwan Madina, Baru, said he was praying and reciting the whole of the Qur'an every  Friday  for Buhari's quick recovery and safe return.
"We know Buhari is a man who loves Nigeria and the people irrespective of tribe, religion and so on. We are sure that if his sickness gets to a level he can't continue in office he will notify the people. But since he has not said that, we are sure his desire is to complete what the people wanted him to do.
"We pray for his quick and speedy recovery. As you can see, we are not relenting in our prayers – recitation of complete Qur'an and even after the Juma'at prayers, we pray for his health. We are not doing this because the President is from Daura. The President is the head of the nation and we know that there is no life without the head.
"It is possible the protesters have a hidden agenda. We can't blame the agitators but we can only remind them that whatever good or evil you wish another person today, might turn to be your portion  tomorrow."
On his part, the Treasurer, BYCC, Yawale Kallah, said he is praying fervently for the President and will continue to pray as he disclosed that the group is planning to hold a special prayer session when the President returns.
The stand of Buhari's kinsmen is not different from that of the Emir of Daura, Dr. Faruk Umar Faruk, who, in May this year, turned deaf ear to those calling for the President's resignation to endorse Buhari for second term.
The Emir, at that time, had said: "We pray for our President's quick recovery, good and sound health to continue his work. To complete the two years and the four years to come."
'No going back'
Meanwhile, Charly Boy has insisted that the Return or Resign protest against Buhari will continue.
He told  Sunday  Vanguard in an interview, at the weekend, that the OurMumuDonDo movement had not said the President violated the Constitution, but that the right thing to do in the circumstance of his ill-health was to resign.
"We have  not said the President violated the constitution. This is a moral issue", he said. The activist went on; "We are crying out because there is so much cover up that we don't know what is going on with our President. We sympathise with the family of the President and anybody can fall sick. If the President were to be my father, first of all, I will tell him to hand over this work to somebody else and `let us take care of you'.   By the way,   some of my people voted for this President because of his reputation. We felt that this was the person who can fix Nigeria. Then we were a little bit confused. Remember the interview the wife had when she was crying out that people had captured the husband. And I am aware of a cabal in Aso Rock because I remember one of my visits to former President Goodluck Jonathan before the 2015 general elections. I was complaining about a particular thing when , Jonathan told me point blank, 'As I dey so here, I am in Prison,'  and I understood what that meant because even the President reports to a group of people."
'Nothing against Buhari'
"We have nothing against Buhari, as far as we are concerned. He may just be the best among all of them but his hands are tied like the wife had admitted. Why are Nigerians forgetful? That is what we are seeing. It is not so much of a legal issue but a moral issue. We seem to have lost our morality. Everything has gone to the dogs. Before, it was not about who had money but who was honest and hardworking".
Charly Boy blamed his generation and the ones before for the rot in the country. "The youth of today were born into this mess and do not know better", he said.
The post It's no crime for the President to be sick!, Buhari's kinsmen tell hit #ReturnorResign protesters appeared first on Vanguard News.