The Lagos Education District 1, has been selected as pioneer beneficiary in Lagos education sector in commemoration of the International Youth Day 2017 by the Believers Love World Ministry.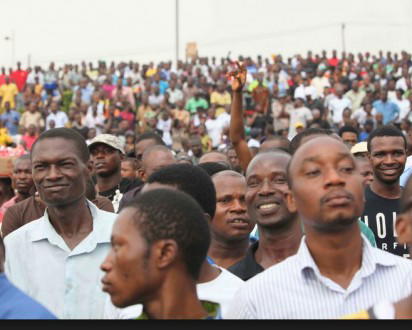 The selection which comes with a reward annually, saw the district being the first of the six education districts and the State's entire educational sector to qualify and benefit from the largess of ministry's  special cleaning exercise and recipient of ample cleaning materials in the State.
Speaking on the development through the Director, Schools Administration, Mrs. Ako, the Tutor General-Permanent Secretary of Education District 1, Dr. (Mrs.) Olufolayimika  Ayandele described the efforts of the Youth wing of the Church as "impressive" while directing much of the credit to His Excellency the Governor, Mr. Akinwunmi Ambode, and his Deputy, Dr. (Mrs.) Idiat Adebule for strengthening educational institutions which has enabled the successful empowerment, equipment and motivation of teachers, all in a bid to raise the bar in the education sector of Lagos State.
On their part, the Youth Wing Coordinators from Lagos Zone 2, Pastor Samuel Jackson of Ipaja, and Sister Ngozi Chibueze of Dopemu Zones both stated that Lagos Education District 1 with all of its 99 schools domiciled within Agege, Ifako-Ijaiye and Alimosho were specifically singled out for the honour as a token of appreciation for its immensely positive impact on a large section of Lagos' population.
Mentioned for touching the lives of specific students and categorized as "Angels" worthy of  every award were; Mr. Olajide of Igando Jnr Grammar School, Mrs. Akinyemi of Abesan Snr High School, Mrs. Bukola Lawal Counsellor State Snr High School, Alimosho, Counsellor, Millennium Snr Secondary School, Principals of Ikotun and Community Snr High Schools, Mrs. Nwabuwa, Shasha High School, Mrs. Balogun, Mrs. Adeseri, Olorunfunmi Jnr Grammar School, and others.
The post Lagos Education District 1 excels during Int'l Youth Day appeared first on Vanguard News.