…Presidency dismisses allegation
By Soni Daniel, Northern Region Editor & Dapo Akinrefon
Former Attorney-General of the Federation, AGF, Mohammed Adoke, yesterday, raised the alarm that the Presidency, acting in concert with the Economic and Financial Crimes Commission, EFCC, was plotting to abduct him to answer charges relating to the controversial Malabu Oil scam.
But the Presidency in a swift reaction by Special Adviser to the President on Media and Publicity, Mr. Femi Adesina, dismissed the allegation.
According to Adesina, "this is a democratic government. The anti-corruption war will always be fought within the ambit of the law."
Adoke, who was the AGF under President Goodluck Jonathan, has insisted that he faithfully implemented the Presidential directive on the settlement of the feud involving all the parties in the oil block controversy and did not do so for pecuniary reasons and should not, therefore, be held accountable for alleged fraud.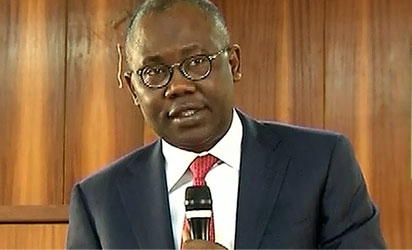 However, the present administration, acting on information provided by the French government on claims that its oil firm, which played a key role in the Malabu Oil deal, bribed top Nigerian officials to get its way, has accused Adoke of masterminding the scheme, which made Nigeria to lose huge sums of money to individuals and entities.
In a statement he personally signed and made available to Vanguard, Adoke accused the Federal Government and the EFCC of acting in bad faith by plotting to arrest and detain him all in a bid to humiliate and cow him.
The statement read: "I have become aware of plans being made by the Economic and Financial Crimes Commission, EFCC, acting in concert with the Presidency to illegally abduct me and forcibly drag me to Nigeria for purposes of detaining and humiliating me for having the audacity to challenge in court, my continuous persecution, intimidation and harassment by the EFCC.
"Despite my best endeavour to explain the transaction, it became obvious that those who felt aggrieved by my refusal to use my office to further their interests in Malabu Oil & Gas Limited, the beneficiary of the OPL 245 Settlement Agreement, were intent on impugning the transaction in order to strengthen the hands of their collaborators in government to repudiate settlement.
"Consequently, concerted efforts were made in the media to taint the otherwise transparent implementation of the Settlement Agreement with corruption.
"I was singled out for prosecution in the absence of any proof of personal interest/gain or wrongdoing on my part."
The post Malabo deal fallout: Presidency, EFCC plotting to abduct me — Adoke appeared first on Vanguard News.