By Gabriel Ewepu
THE Miners Association of Nigeria, MAN, has supported the Federal Government and United Nations Industrial Development Organisation, UNIDO, campaign against use of mercury for gold mining.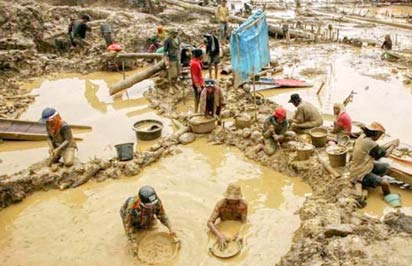 This was disclosed by the National President, MAN, Shehu Sani, while explaining why the use of mercury by small scale and artisanal miners in gold mining should be stopped.
Sani promised that his association has the reach and capacity to embark on sensitisation and advocacies that would discourage small scale and artisanal gold miners from the use of the deadly product.
The Federal Government recently inaugurated a National Steering Group (NSG) for the execution of the National Action Plan on Mercury use in the Nigerian Artisanal and Small-scale Gold Mining (ASGM) sector.
This move by the government aims to reduce the effect of mercury on human health and the environment in line with the Minamata Convention to which Nigeria has been a signatory.
Major highlights of the Minamata Convention include a ban on new mercury mines, the phase-out of existing ones, the phase out and phase down of mercury use in a number of products and processes, control measures on emissions to air and on releases to land and water, and the regulation of the informal sector of artisanal and small-scale gold mining.
The Minamata Convention on Mercury is a global treaty to protect human health and the environment from the adverse effects of mercury.
The post MAN backs FG, UNIDO's campaign against use of Mercury in mining appeared first on Vanguard News.