Warri (Delta) – The Pan Niger Delta Forum (PANDEF) has condemned reports credited to the so-called Coalition of Niger Delta Agitators' of its plan to attack oil facilities.
The PANDEF's condemnation came in a statement by its Coordinating Secretary, Dr. Alfred Mulade, on Sunday in Warri.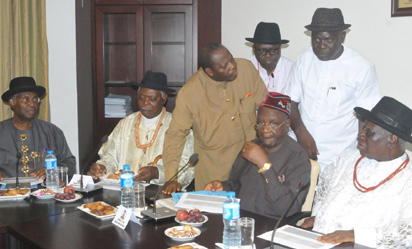 He said there was no basis for the threat by the faceless group adding that the statement was most irresponsible, and should be discountenanced.
According to Mulade, PANDEF met recently with the Acting President, Yemi Osinbajo on a number of problems bedeviling the Niger Delta region.
He wondered why some elements would want to truncate good efforts made so far by the forum for the attainment of peace and sustainable development in the oil-rich region.
He said the Forum had scheduled a meeting with "relevant stakeholders in the next few days to discuss the various agreements reached with the acting President.
""PANDEF condemns a media report credited to certain faceless Coalition of Niger Delta Agitators planned attacks of oil facilities by September 10, and asking Northerners and Yorubas to quit the Niger Delta Region before October 1, 2017.
""This call is coming at a time when PANDEF leadership and stakeholders had a very useful meeting with Acting President, Prof. Osinbajo few days ago at the Inter-Ministerial Committee on the Niger Delta.
""Indeed, this group should know that there is no basis for this kind of action; it is most irresponsible, and should be discountenanced.
""PANDEF therefore wishes to advise all law abiding persons from any section of the country, irrespective of tribe or political affiliation, to remain calm, and go about their lawful endearvours," Mulade said.
He urged the Niger Delta people to remain calm, patient and patriotic. (NAN)
The post PANDEF begs N/Delta people to remain calm, patient, patriotic appeared first on Vanguard News.