Mr Osita Okechukwu, the Director General of Voice of Nigeria (VON), has asked former President Goodluck Jonathan to apologise to Nigerians over the comments he made on the handling of the corruption war during his tenure saying that 'rather than plugged loopholes of corruption, the he opened it wide.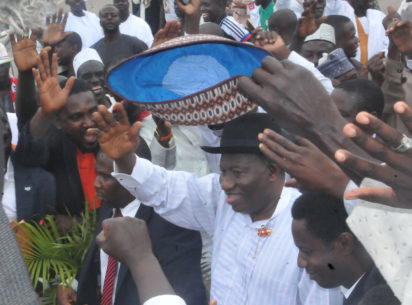 Okechukwu, reacting to former President Jonathan's comment at the Peoples Democratic Party (PDP)'s Special Non-elective Convention in Abuja yesterday that "though we didn't completely plug the loopholes in the fight against corruption, but we did well"
Okechukwu: "My own sincere assessment is that our dear ex-president rather than plugged loopholes of corruption, opened it wide. He should apologize to Nigerians whom he betrayed for being less than transparent.
"I was outraged when I heard him proclaim that the PDP will return to power in 2019 because of the hunger and poverty ravaging the country."
He further said that Jonathan relied on "voodoo economic records' which rated the Nigerian economy higher than that of the industrialised South African economy' and 'that going by the financial records, the ex-president and his party "railroaded" Nigerians into "abject poverty, food insecurity and deficit infrastructure" via "planlessness and squandermania".
Part of the statement also read, "He (Jonathan) propelled his preferred Minister, Mrs Deziani Alison Madueke and other cronies to loot dry our dear countrymen.
"Example, later day revelations are showing how $80 million was used by Mrs Madueke's ally to purchase a luxury yacht, money which could have been utilized to build the best hospital in Yenogoa.
"Or is he not reminding us of the humongous foreign exchange used in buying choice estates locally and abroad?
"In sum, the biggest headache of Buhari administration is the huge local and foreign debt amassed by the PDP's 16 years misrule. On bail-out fund and Paris Fund refund, Buhari has spent over N1 trillion on salary and pension arrears. He has also paid over $7 billion on obligations to International Oil Companies (IOC) with the little he got."
Okechukwu said if the Jonathan government had executed the award of $23 billion contract for the erection of three Greenfield refineries promised to located in Bayelsa, Kogi and Lagos, it could have saved Nigeria over $200 billion expended on importation of refined petroleum products till date.
The VON DG said that with huge oil revenue under his regime, Jonathan "stood a good chance of fixing the Niger Delta, but failed woefully", advising him to keep quiet, especially now that the hunger and poverty he allegedly imposed "are getting too harsh".
"I regret demonstrating on Abuja streets in 2010, for him to be made an executive president, with others as a member of the defunct Save Nigeria Group," said Okechukwu.
The post …rather than plugged loopholes of corruption Jonathan, opened it wide – VON DG appeared first on Vanguard News.