By Emmanuel Ayungbe
UYO—AN expert in snake management and Associate Professor, Department of Forestry and Natural Environment Management, Faculty of Agriculture, University of Uyo, Akwa Ibom State, Edem Archebong Eniang, has raised the alarm, that Ghana, Togo and Republic of Benin, had appropriated Nigeria's annual export quota of 2000 baby-pythons to Europe, causing the country a huge loss in foreign revenue.
Eniang, a member of many professional bodies, including Boas and Pythons Specialists Group (BPSG) and Crocodile Specialists Group (CSG), in an interview with NDV, said that snake traders in the aforementioned countries sneak in pythons to Nigeria and surreptitiously exploit the nation's allocation.
The professor, who currently has 24 baby pythons in his manatee, said: "South Africa generates a lot of money from snakes and crocodile exportation. A standard python farm with veterinary section and rat producing unit will take more than N25 million. The profit margin is very high as only one female python can give more than 20 eggs and one baby python cost $400 in the USA when exported.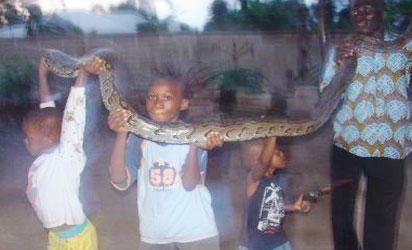 "Convention on Trades in Endangered Species (CITS) law provides Nigeria a quota to export 2000 pythons to Europe annually. Regrettably, since I became a snake expert, Nigeria has never exported 200 pythons to the Europian market. We have always allowed Ghana, Togo and Benin Republic to use our quota after exhausting their quota. They smuggle baby pythons to Nigeria and export them from Nigeria to Europe using the quota reserved for Nigeria.
How I came about my pythons
"In Akwa Ibom state, specifically in Itu and Nsit Atai local governments, we have large deposits of royal pythons, which sell for $500,000 per one in the street of US. Pet shops sell them to parents, who give them to their daughters as congratulatory gift after graduation. This royal python does not see in the afternoon but see perfectly well in the night."
On how he came into snake farming, he asserted: "A construction company was constructing a road somewhere around Ibino Ibom in Akwa Ibom state where the bulldozer excavated a giant python. Passersby, who know his passion for snakes decided to bring the python to  the University of Uyo.

"They demanded for money for the dead python and I told them I had no need for a dead python and they did not have need for python either. When I opened up the dead python, I discovered that it had eggs, so I pleaded to have the eggs. Good a thing they gave me a bundle of eggs out of which I was able to salvage 24 and I took it to my compound and converted my manatee enclosure for the eggs.
"I had constructed a manatee to keep any snake I will come across. Because I have no space I converted the manatee to incubate the eggs naturally. After a month and three weeks I discovered that all the 24 eggs had hatched successfully. Today I am a proud owner of 24 baby pythons and I will nurse them to maturity," he said.
Nurturing pythons
At the early stage of their life, he revealed: "The baby pythons cannot hunt for food, so I provide small rat (albino) and a day old chickens which they swallow as their meals to supplement whatever they will get from their concrete enclosure.
"For now, the baby pythons only take small rats and day- old chickens as food, if you present them. Matured rats are not accepted as the baby pythons will refuse to swallow them even after strangulation. They can defiantly kill, but cannot swallow because of their age. They are young and inexperienced."
The don explained further: "Pythons do not eat like humans, when you give them a good meal, they will stay up to three weeks before asking for another meal. If I provide six rats for one big python, it can stay up to four weeks before requesting for another meal. Pythons do not eat dead rat or chicken; they want their prey bubbling with life before being considered good food.
"In the process of killing their prey, their appetite is activated with excitement to swallow. Their digestive system is very perfect as the digestive enzymes crush even the bones and the whole animal serves as food. Miraculously they do not excrete any trace of bones, but strangely, you can find bones in the excreta of lions.
 Python hardly kills human being
"Pythons do not kill human beings for food because at the end of swallowing a full human being, it will difficult for them to move away from that point; In fact,   their lives will be in danger as they can be killed at that spot, so to avoid being killed, they go for smaller animals, if  peradventure, it is attacked, it will normally fight back and kill the person to protect itself, but not for food. The python intelligently avoids the prey that is too big that will sap its energy and make it vulnerable to attack. They avoid human prey,".
Eniang said that the oldest python has been with him since 2013, adding: "When it grows older and larger in size as usual, I will donate it to other snake experts where they have better protective facilities so that the life of my children and domestic pets will not be at risk until I am able to develop a sanctuary where I will keep them."
Lifespan
According to him, "Pythons  live up to 60 years but in Nigeria,  hardly will any snake  survive its first encounter with man, that is why  I instituted a bond, "The Beauty of Nature" so that I can connect people back to nature. I want to raise a generation of young people, who will appreciate the animals and not to kill them as bush meat for their pot of soup."
The post Snakes: How 3 African countries export pythons with Nigeria's quota – UNIUYO Don appeared first on Vanguard News.