Governor Ifeanyi Okowa has urged the clergy to speak to the conscience of the political class through undiluted messages of salvation.
Speaking at the weekend in Aragba-Orogun, Ughelli North Local Government Area during the Remembrance Service of the Founder, Holy Spirit Redeemed Mission, Baba Moses Obarue, Governor Okowa said that the clergy was responsible for telling political leaders the truth at all times no matter whose ox is gored, pointing out that his administration was committed to managing the state's resources for the benefit of all Deltans.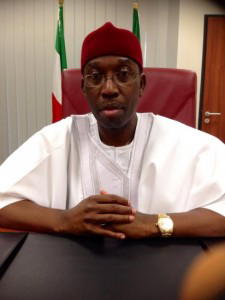 He described the late Prophet Obarue who died five years ago as a man known for his messages of holiness and his boldness in speaking the truth to highly placed politicians and leaders.
Recalling his encounter with the late servant of God, Governor Okowa said he genuinely gave his life to Christ under his ministration and urged Christians to seize every opportunity to impact on the lives of people around them.
Senator Okowa urged Deltans to put their trust in God if the state must overcome its challenges, adding that with constant prayers and fasting, God would heal the nation and restore its lost glory.
In a sermon titled "What Would You Be Remembered For?",  Reverend Asifor Akunkpimi described the late Prophet Obarue as an addicted soul winner, with an incurable passion for fasting and prayers, urging christians to impact positively on the lives of those around them, so that when they die, their legacies would continue to be celebrated.
Governor Okowa later joined the wife of the late Prophet, Mama Grace Obarue and her children to make thanksgiving to God.
In another development, Senator Ifeanyi Okowa, at a brief reception organised by Aragba-Orogun community,   assured Deltans of government's commitment to bring infrastructural development to every community in the state.
He thanked the people of Aragba-Orogun for their overwhelming support for the People's Democratic Party, PDP and enjoined them not to relent in ensuring the success of the present administration, promising to look into their requests.
The Chairman, Governing Board of the Delta State Polytechnic, Otefe, Oghara, Barrister Andrew Osawota  who spoke on behalf of the community, had informed the Governor that Aragba Orogun community would continue to support government's policies and programmes, while appreciating the development strides of the Governor's administration.
The post "Speak To The Conscience Of Political Leaders", Okowa Tells Clergymen appeared first on Vanguard News.