Being extracts from the 2017 Chief Sobo Sowemimo (SAN) annual lecture delivered by Basorun J.K. Randle. It was organised by the Abeokuta Club.
Our entire nation is at  the  turning point. Indeed, some will argue that it is actually the tipping point – as we are confronted with turbulence. We have lived with poverty, ignorance and suffering for so long that we have become almost immune and indifferent. However, what is causing  panic is the combination of fear, attenuation of mutual suspicion and disaffection which have mutated into imminent danger and disintegration of our nation together with the prospect of another civil war.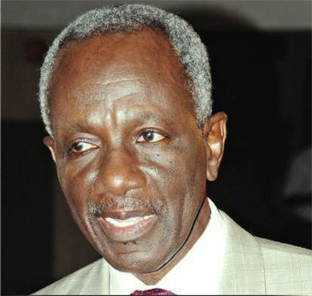 We are fed a daily diet of the  atrocities of Boko Haram, ruthless kidnappers, rampaging floods and trailers arbitrarily off-loading their containers directly to crush unsuspecting cars/buses along with passengers who merely embarked on a survival mission. I am here to remind you that it is  the likes of Chief Sobo Sowemimo, S.A.N, that we require at times like  this to take the nation to task for adopting a strict regime of plenty for the few and scarcity for the many. That is the system  we have adopted by default and consequently shattered the dreams of our founding fathers, especially the Egbas.
You must forgive me if I misrepresent the thrust, essence and substance of what  Oba Adedotun Gbadebo, the Alake of Egba Kingdom (Egbaland), with Abeokuta as the epicentre, painstakingly sought to share with me  regarding the history, culture and heritage of Egba Kingdom (and Abeokuta) before it was lured, seduced and coerced into becoming a surrogate of the British Empire in 1830? Much of what Kabiyesi told me was a confirmation of what Sowemimo had conveyed to me in his lifetime. If there was any difference it was only in matters pertaining to details. The Kabiyesi is indeed profoundly learned about his antecedents and the combination of his authoritative deposition with the rendition by Sowemimo provided robust evidence that, long before the advent of the British, the Egbas had  established their own civilization. Their soldiers fought wars  and nearly always triumphed on account of their nimble tactics, military strategy, and abundant courage – both in defence of their city (Abeokuta) from invaders or in the attack of troublesome/noisy  neighbours. The Egbas even had their own police force (Akodas) who enforced law and order as prescribed by the King and  supported by his hierarchy of chiefs and traditional priests. In trade and commerce, the Egbas were pre-eminent as merchants providing services and facilitating the movement of goods from the Lagos ports in exchange for the products from the hinterland. The issue of slaves and its gruesome dehumanisation is a subject for another day. It is sufficient to admit that the Egbas were not innocent bystanders.
Majekodunmi and Simeon Adebo
My first encounter with the shattered dreams of the Egbas was through the late Chief (Dr.) Moses Adekoyejo Majekodunmi, who was the Otun Balogun of  Christians of Egbaland. He was Minister of Health in the First Republic and the Administrator of theWestern Region of Nigeria following the declaration of emergency in 1962. Thereafter, he was mostly resident in Lagos and both Chief Sowemimo and I were beneficiaries of his friendly disposition. Another beneficiary was the late Chief Wole Adeosun, who served as Minister of Communications under President Olusegun Obasanjo. Of course you all know that they both held very high titles in Egba Kingdom (Osi of Egbaland and Ekerin Balogun of the Egba clan). Mine is still on the way!!!
Anyway, towards the end of his life, Chief Majekodunmi was at his private residence (country home) at Ibara GRA, Abeokuta. He decided to visit his neighbour and brother-in-law, Chief Simeon O. Adebo, who was a very high ranking Egba chief. They spent the entire evening in Chief Majekodunmi's house bewildered by what had become of our beloved nation which they had served meritoriously. The host accompanied his guest to the fence that separated the two houses and the lamentation became even more earnest until it was the turn of Chief Adebo to now accompany Chief Majekodunmi back to his house. While this back and forth was going on, the wife of Chief Adebo was compelled to intervene with her appeal to the two elder statesmen: "If you two old men are going to spend the whole night grieving over Nigeria, you should at least sit down in one place".
Encounter with MKO Abiola
My second encounter with the shattered dreams of the Egba was by pure happenstance. In 1982, I was in Madrid to watch the World Cup. As I entered the stadium and proceeded to the seat allocated to me, I was somewhat delightfully surprised to find Chief M.K.O. Abiola, the Bashorun of Egbaland, already seated alongside Chief Olu Aboderin, Ashipa Parakoyi of Ibadan. Rather than allow me to proceed to my seat which was right next to theirs, they created room for me and insisted that I should sit between them. Rather than allow me to savour the dazzling display of wizardry of Paulo Rossi, the Italian footballer, Chief Abiola and Chief Aboderin were vigorously debating how to  oust  the government of President Shehu Shagari on the aegis of the National Party of Nigeria (NPN). Before the match was over, Chief Abiola and Chief Aboderin had sealed their pact to deploy their respective newspapers "Concord" and "Punch" against  the Shagari government which they accused of tribalism and ineptitude to the detriment of Yorubas (particularly the Egbas). Alas, when the military took over on 31st December 1983, the new Head of State was Major-General Muhammadu Buhari with Major-General Tunde Idiagbon as Chief of General Staff, Supreme Headquarters.
What is of relevance is that Idiagbon's Principal Staff Officer was an Egba prince, Colonel Dotun Gbadebo, who is now the Alake of Egbaland.
Perhaps we need to persuade those who expected Colonel Gbadebo to use his position to transform Abeokuta and Egbaland, and thereby answer their prayers, to be more realistic and objective in acknowledgement of the fact that, within the military hierarchy, the bosses hold sway. In any case, it would  be pertinent to direct attention to 1976 to 1979 when General Olusegun Obasanjo (who is the Jagunmolu of Egbaland) was the military Head of State as well as the eight years (1999 to 2007) when he was  civilian President. We must also add the tenure of Chief Ernest Shonekan who was the Head of State during the Interim Government. Even during the Presidency of  Shagari, Chief Abiola made it known that he was waiting in the wings to succeed  him as the flagbearer of the National Party of Nigeria (NPN). His candidacy was thwarted by  Alhaji Umaru Dikko, then Minister of Transport (and de facto President), who chastised Abiola with a public announcement: "The President of Nigeria is not for sale."
For Chief Abiola, it was a public humiliation for a proud Egba chief, from Gbagura.
During the Buhari/ldiagbon regime, Abiola ran foul of the military government and his Concord Press was closed down over allegations related to importation of newsprint without paying duty. This was followed by the humiliation and embarrassment of Abiola by the "mad dogs" episode.
Large profile
The point that needs to be made is that whatever dreams were being nurtured by Chief Abiola were thoroughly battered during the Buhari/Idiagbon regime. His prayers were not answered until the emergence of General Ibrahim Babangida as President. Chief Abiola's profile loomed large. His business flourished exponentially while his generosity became legendary.
During his  regime, Babangida  indicated that the military was  ready to hand power back to civilians. Consequently, he set up two political parties – Social Democratic Party (SDP) and the Nigerian Republican Convention (NRC).  Abiola opted to join the SDP  after Babangida had disqualified virtually all the main contenders.
The road had been cleared for  Abiola. As fate would have it, he and I were on the same British Caledonian flight from Lagos to London. Throughout the six hours flight, he talked non-stop about his political ambition. It was to no avail that I reminded him of his formidable foes – particularly the supporters of the late Chief Obafemi Awolowo, a southerner whose ambition to become president on  the aegis of Unity Party of Nigeria (UPN) had been  attacked  by Abiola who had put his massive financial resources and his newspapers at the disposal of  Shagari, a northerner.
On arrival in London, I proceeded to my hotel in a taxi and  Abiola had a chauffeur waiting to rush him off to his house. An hour later, he called to say he was heading back to the airport to catch a flight to Paris for a meeting with his business partners in  ITT.
Without any prompting from me, he was determined to continue our discussion regarding his political ambition. He insisted that he would contact me on his return from Paris same day. In the evening, I was in the bar of the hotel when Chief  Sowemimo,  who we are celebrating today, walked in. Drinks flowed and he proceeded to regale me with spellbinding tales of Egba Kingdom and Abeokuta. Late into the night, I took my leave but Chief Sowemimo stayed on.
I was already fast asleep when my phone rang. It was Chief Abiola!! He said he had just returned from Paris and,  rather than go straight home, he was on his way to see me. I suggested that considering that it was well past midnight, we should arrange to see the following day. It was then he announced that he was already in my hotel and had run into  Chief Sowemimo, the Jaguna of Egbaland.
Within a few minutes they were in my room. For several hours, the two Egba Chiefs bombarded me with riverting tales of the glorious past of the Egbas and their shattered dreams – leaving them no choice but to install an Egba man as our next President!!
Bridge – builders
I must add that the two Chiefs were as passionate about Egbaland as they were about Nigeria.
Well into the early hours of the morning the two Egba Chiefs were still going ding-dong over the past glory of Egba Kingdom and the entitlement of Egbas (especially the former slaves/returnees from United States of America and Brazil) to reparation. I drifted between sleep and wakefulness while all this was going on. Back and forth it went on and suddenly the discussion would revert to the poltical ambition of Chief Abiola which would crystalise into answered prayers not only for the Egbas but for our entire nation – both Christians and Muslims.
What was most remarkable is that I was left in no doubt that this was not a case of shattered dreams versus fanciful/wishful thinking. Neither was it a case of "Egba meji kin jerawon ni yan" (you would never find one Egba contending against another. Ba wa!!)
Both of them were bridge builders – between the northerners and southerners. Indeed, the two Egba chiefs had late General Murtala Mohammed as their common friend well before Murtala became the Military Head of State. Coincidentally, they were both in the bad books of the ardent supporters of Chief Obafemi Awolowo. Chief Abiola was considered an enemy for pitching his camp with Alhaji Shehu Shagari against Chief Awolowo
As for Chief Sobo Sowemimo, he was vicariously guilty because it was his older brother, Justice George Sodeinde Sowemimo (who later became the Chief Justice of Nigeria) that jailed Chief Awolowo for treasonable felony in1963 after declaring in open court: "My hands are tied." That pronouncement was pregnant with meaning subject to interpretation depending on whether you were a loyal friend of Chief Awolowo or an unrepentant foe.
I must confess that I was somewhat taken aback when Chief Abiola reminded me that back in 1982 as we exited the football stadium, a gypsy lady who was begging for alms looked into his eyes; x-rayed and read his right palm; and proceeded to declare:
"One day you will become the president of your country".
Chief Abiola promptly emptied his pockets and turned the gypsy lady into a very rich woman instantly. As I mentioned earlier, Chief Olu Aboderin was with Chief Abiola and I at the stadium. For him, the gypsy correctly predicted: "You are already a great man and you will amass considerable wealth. However, there is a dark shadow over your health".
She was prophetic. Chief Olu Aboderin died in February 1984.
In my own case, the soothsayer predicted that I would become a global literary figure with numerous books to my credit. I have no recollection that an invitation to deliver "The Chief Sobo Sowemimo Memorial Lecture" was part of her prediction.
Friends with northerners
Nevertheless, at the risk of telling you what you already know, perhaps, we should remind ourselves that Chief Sowemimo was born in Kano on 22 December 1921. Of course, he spoke Hausa fluently and that partly explains his close friendship with the Northerners (predominantly Hausa/Fulani) who held top positions in government. Consequently, in the 1980s and 1990s, his office at Abibu Oki Street, (off Broad Street) in Lagos was the rendezvous for the likes of then Colonel Murtala Mohammed; Colonel T.Y. Danjuma; Permanent Secretaries such as Alhaji Ibrahim Damada; Alhaji Bamanga Tukur, General Manager of Nigerian Ports Authority as well as the likes of Aliyu Dasuki and Chief Eddie Aleyidino of Ministry of Interior/Immigration Department.
First rank of law firms
The law firm was remarkably successful and flourished under the name of Fani- Kayode Sowemimo and Co. Chief Remi Fani-Kayode graduated from Cambridge University with flying colours and became a 'Q.C'at the age of 39 before venturing into politics and eventually becoming the Deputy Premier of the Western Region. It is sufficient to record that Fani- Kayode & Sowemimo was in the first rank of law firms in Nigeria, Alhaji Femi Okunnu a bosom friend of Chief Sowemimo and an old boy of King's College, Lagos (and King's College London) joined the firm. So also did Mr. Gbolahan Alatishe who graduated from Oxford University.
I vividly recall how ecstatic Chief Sowemimo was when, at the Metropolitan Club (Victoria Island, Lagos), he joyfully informed me that his partner's son had graduated in law from Cambridge University and had been called to the bar. The future of the firm was secure with the prospects of fresh blood and the fourth generation of Fani-Kayode to graduate from Cambridge University. According to Chief Sowemimo, his prayers had been answered.
Not long afterwards, it was the same Chief Sowemimo who called me aside pre-lunch to share his anguish – Chief Fani-Kayode's son was exiting from law into full blown politics.
Apparently, it was to no avail that Chief pleaded with both the father and son that the young man should first follow the footsteps of the father at the bar before venturing into the stormy seas and turbulent weather of Nigerian politics. Chief Sowemimo clearly loved the father and adored the son (or maybe it was the father he adored and loved the son like his own). What is beyond doubt is that Chief Sowemimo had a large heart. Even though Chief Sowemimo's dream had been shattered, he took it rather well.
Nothing can eclipse Chief Sowemimo's love for his wife, Princess Lolade (nee Akintoye). She was a jewel. Together with her beloved husband they ensured that all their children were given the best education in a stable family environment – in Nigeria, United Kingdom and beyond. Most sadly, just over a year after Chief Sowernimo passed away, Auntie Lolade joined him, leaving their children and friends of the family utterly bewildered. It was clearly a case of shattered dreams.
The post The shattered dreams of the Egbas (and answered prayers) by J.K. Randle appeared first on Vanguard News.