Osoba speaks for a marine pollution management coy
Elder statesman and former Governor of Ogun State, Chief Olusegun Osoba, is chairman, board management committee of African Circle Pollution Management Limited (ACPML), a marine pollution management company, which just deployed a $4.5 million equipment in Port Harcourt. Recently, he spoke to journalists on the activities of his company and the improvements that the maritime sector has seen in Nigeria in the past one year. Excerpts: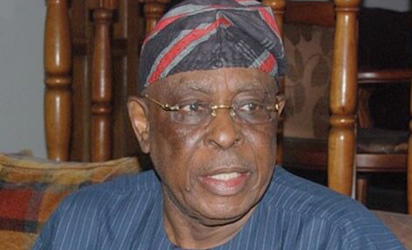 THE launch of the Oily  Water Separator Plant will transform the maritime sector. What informed your company's decision to invest in this plant and what do you seek to achieve?
Our company, the African Circle Pollution Management Limited (ACPML) is involved in what we call marine pollution or MAPOL. The International Maritime Organisation (IMO) has an international convention that does not allow ships to dump waste into the ocean and water ways indiscriminately. This is to protect the environment. What our company does is to collect waste from vessels plying Nigerian waterways, all kinds of waste, including oil waste which is called slug. We don't just take these wastes and dump them in the dump site; we treat the waste and satisfy the international standard of marine waste management.
Marine waste  management
These are some of the things that the equipment we have just acquired is supposed to do. We collect the waste, collect them through barges, vessels to the site and then from there, we recycle the waste.
What is the worth of this equipment?
The equipment is about $4.5 million (N1.39 billion) It is from France and we have another one from Netherlands in Lagos. It is a highly technical and professional function, the equipment in Port Harcourt is one of the most modern and I can proudly say that in the West Coast of Africa, if not the entire African continent, we are most modern. We are most modern because the IMO also does not allow the incineration of waste anymore. Previously, we incinerated some of these wastes but that is no longer allowed. You have to be really professional to operate in the industry and what the IMO requires now is recycling of waste in such a way that no harm is done to the waterways, ocean, lagoon and to water life and human beings.
How do you get paid for this sensitive job that you are doing?
We are contractors to the Nigerian Ports Authority (NPA), but must certify the vessels to ensure that they comply with international standards by allowing us onboard and collecting wastes. The vessel owners now pay the NPA. As you know, shipping and aviation business is denominated in U.S Dollars, and because our expenses are most in dollars they pay us in Dollars.
Given the scarcity of foreign exchange in recent times, is the NPA indebted to your company?
Yes. Before the commencement of the Treasury Single Account (TSA) and during the time of the immediate past management of the NPA, it was a herculean task to get our money released. That affected the performance of the functions that we are supposed to do and it affected our intention to be as effective as we wanted to be.
So what is the relationship between your company, other operators on one part and the current management of the NPA, which is now about one year on the saddle?
Without being hyperbolic and using exaggerated language, it has been most fantastic and most rewarding since. Before the appointment of the current MD, we had accumulated invoices that were not paid. When she came in, first of all, what I noticed is that she has been able to reduce the bureaucracy in the NPA, the bureaucratic bottleneck has been virtually wiped out. The result of this is more efficiency in the business transaction with the NPA. I don't want to quote figures but we were pleasantly happy when we suddenly got paid about 70 per cent of the totality of accumulated invoices in the past. I can tell you that the payment helped in  reinvesting  that money in the modernisation of our equipment. For example in Port Harcourt, we have incinerators that we had purchased that we were going to use there, but because the international law now does not encourage the incineration of wastes, we had to order this new equipment.  And we were able to do so because the NPA did the needful, our accumulated funds were paid.
Recently the NPA and some operators had disagreements over the NPA's decision to introduce certain changes and according to the NPA, ensure that things are done according to international standards. As an operator in the industry, what is your view on this?
I was actually surprised to hear about that. If any operator is complaining about the management of the NPA under Hadiza Bala Usman, from our own perspective at African Circle Pollution Management Limited, it must be that such people are not transparent in their business. That is my view. We, as a company are very transparent, we present our invoices and the security agencies are involved in the inspection, supervision and verification in all that we do. If you are not complying with rules and regulations of course, you must run into trouble waters with her. I am saying this not because I have knowledge of her as a person or as party member. She was secretary of a committee that I belonged to when we were doing the merger and she showed a level of efficiency that I respected.
Secondly, I was very close to her father when he was alive. Balarabe Musa as governor of old Kaduna State appointed her father as secretary to the government of the State then. The National Party of Nigeria (NPN) was giving the Peoples Redemption Party (PRP) government a hell of a time and I virtually moved our newspaper regional office to Kaduna to give objective coverage to the event in Kaduna. It was Balarabe Musa that then linked me and the late Bala-Usman together. He was a prince of the North but he was a highly progressive minded person. I am saying this because I believe that Hadiza is not doing what she is doing just by accident. She is acting through pedigree, through what she imbibed from the reputation of her father. I am not surprised but I am pleasantly happy. I do not believe that she would deliberately trample on anybody's right or stop what is due to any company. But she would be a stickler to transparency and in such situation, she will be in collusion with those who may not want to do things right or want to remain in the way of the past. And this is the kind of public service that we need in this country.
What is your position in the company and how many Nigerians are working there?
I am a director and I happened to be the chairman of the board management committee of the company and we have very intimate knowledge of what is happening there. We used to have expatriates but I can tell you that right now we don't have any. We have staff strength of about 250 Nigerians.
How do you see the move by Bala Usman to stop monopoly in the maritime sector?
I totally support her! Monopoly anywhere in the world creates inefficiency but where you have competition in any sphere of life, you create efficiency and better practices. The only thing is that I know that it is not easy to want to do things right. We, Nigerians we are a country that was developed on falsehood, corruption and malpractices. I praise her courage; it is not easy to face established system. I can tell you confidently that recently I met with one of our governors and Hazida was on television and the governor was asking me as an operator how she was doing and I told him she was doing well and the governor jokingly said, "She would not be the true daughter of her father if she behaved otherwise."
Your company is a recycling company, what do you do with the recycled waste and what would you advise operators on how we can clean our waterways in the country?
What we are doing with vessels complies with the IMO convention. We sell our recycled wastes. There are people who buy. I believe there should be cooperation between the NPA and the Lagos State Government to clean our waterways. We have proposals to that effect. Some of the wastes we dump in drainages all over Lagos State go to the lagoon and water hyacinth is a major problem.  We are still talking to see how we can manage the indiscipline of Nigerians who are dumping wastes in the drainage and the waterways that are taken to the lagoon.
What do you think the NPA can do to move the maritime sector forward?
Like I said, the first thing is to lay a good foundation of efficiency. International business has a standard all over the world. Hadiza is laying the foundation of efficiency, which is the first thing I will advise her to do. Sanitisation of the system itself, it can't happen overnight, I cannot say that in one year she has performed the magic of transforming the NPA in its entirety, but she has started well. You don't have to queue in the office of the managing director before you get what is due to you. That is a good foundation and overtime, she will have the time to build a good foundation.
Good  foundation
But those who may feel offended because they are losing out by making money for doing nothing and those who want to take advantage of the weak system and rip-off the government will not be happy. But those days are gone. I am happy to say that after one year in office, she has gone through the most difficult period.
Sir, you must have read in the news of the allegations that 282 vessels got missing under the watch of the NPA between 2010 and 2016 by the Senate Committee on Customs, Excise and Tariff, as an operator in the industry how plausible is this?
I can tell you that the problem in Nigeria is that we dwell on unnecessary things. For example, dredging of our waterways the way we are approaching it is not the right thing. We have deep-sea off-shore that is why we are losing to countries like Togo and Benin Republic. They are using the deep-sea offshore of their countries and a lot of ships prefer to go and berth there.
The more you dredge the more environmental problem you create for Lagos State. Lagos itself is below sea level and that is why you have this flooding. Anytime the water rises, it creates problems for Lagos and the coastal areas.  I can tell you that the NPA is doing forensic auditing of what anybody is claiming and when you do forensic audit and you insist on compliance to due process you are abound to have head on collision with entrenched interest. Entrenched interests are the major problem that she is facing in the NPA.
The post There's tremendous improvement in NPA, … – Osoba appeared first on Vanguard News.