When a Nigerian celebrity has close to 700,000 followers on Instagram, it is beyond any question that the celebrity is a superstar. But when that celebrity is an actress who has been in the industry for barely two years, there's something definitely special about her.
Anambra State-born Felicia Fred is only 24, a Mass Communications graduate of Nnamdi Azikwe University, and she's starting life in Nollywood at the very apex. Meet her:
BY AYO ONIKOYI and ABIGAIL OLAWOYIN
How did the acting journey start for you?
Well, after I finished my NYSC I decided to study the industry to figure out where to start from and because of my social media presence I was able to get a role fast enough. I was called upon to feature in a movie titled Ghost Lover and that was my first lead role.
How many films have you done all together?
I have done about eight movies.
What actually inspired you to go into acting?
I have always wanted to be an actor right from when I was a mere child; all of my friends were always telling me I was too dramatic to pass up the chance of becoming an actor. I have always had a way of expressing myself dramatically, I am quite emotional. I discovered it's something I'd love to do because if there is anything I love to do it's not being me. I love getting into different characters and just do what I have to do, it's more fun, it's like a hobby, it's something I love.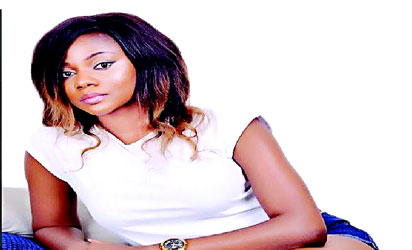 Is that why they say every actor is deceptive by nature?
Well, I don't really know and I am not ruling it off completely too. I can't say I am deceptive but I am not perfect. I think I just like the fact that I could just act like you or act like any other person but not me. There are times when I have been in bad situations and I just had to act, not in the movies, I mean for real, out of the situations. I have had to pretend, I fainted to escape punishment at home or in school.
Looking at your Instagram account, you have over 650 thousand followers; how did that happen?
I have been on Instagram for five years now. When I joined I took my cue from people like Kim Kardarsian, and a lot of UK models; the way they dance, video themselves, doing a lot of musical stuffs and people go there and start commenting, saying nice things and I said to myself, 'I can do this' and when I did people got attracted to my page. My followers are not only Nigerians, they are from everywhere in the world, because I dance and it attracts them. When I dance, it is not traditionally, I can move my body in all sorts of ways so they got interested and then, I post quality pictures. Sometimes, I put up my pictures with motivational write ups, so it's not just about telling people you're pretty it's also about inspiring people. At a point some people got addicted to my write ups, it comes like my caption to each post and then the Sniper Energy drink endorsement thing too helped me gain much popularity.
Are you sure you didn't get all these followers by showing your butt or boobs?
I wouldn't lie; I have shown a bit of my boobs not the full boobs though. If you go through my profile there are some pictures that show my cleavage; though that was in the past, mostly in 2013. I did this twerk video and that very day I got 10,000 followers on Instagram.
What kind of comment do you mostly get?
I was getting supportive comments initially, until the negative ones started coming. I used to report or delete negative comments until I realized I have to be open to both criticisms and praises. I get comments like; 'when next are you posting,' 'I love your post because of the inspirational write ups,'  'over hyped bitch, you think your boobs are better than mine' etc. But somehow I don't see the negative comments again and it's not like I reported them but they just vanished.  But on my Facebook I get wonderful comments from different people, married women, men, teenagers, and adults. They tell me nice things and they comment based on my inspirational write ups, and when I show my boobs they would be like nice one but please can you cover up a little and I am like you have it flaunt it.
What's the nicest thing ever said about your boobs?
Well, I have heard someone say: 'Felicia Fred you're so blessed, you're slim and have nice boobs'.
Have you encountered a bully?
Yes, a lot. There was someone that told me, 'if you don't delete this picture I will hack your account'. They threatened several times; you know we have crazy people out there. I have seen situations where people asked me to sell my account to them.
What are the highlights of your careers so far?
I have been the face of Sniper energy drink in Nigeria, and sometimes I do Instagram modeling, showcasing their products, then I snap and advertise on my page, that's all.
Was the Sniper energy drink endorsement rewarding?
Of course it was rewarding, surprisingly.
The post Twerking my butt on Instagram got me 10,000 followers in a day — Felicia Fred appeared first on Vanguard News.