Mrs. Ada Ezeogu is the United Nations Children's Fund's Nutrition Specialist. In this interview with Chioma Obinna, she x-rays the reason Nigeria is rated so low in exclusive breastfeeding.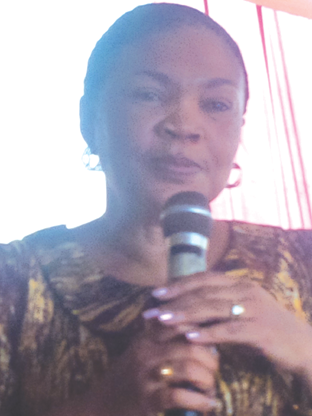 What really is breastfeeding?
Breastfeeding simply means feeding of an infant or young child with breast milk rather than using infant formula or any other milk from baby bottle. It simply means feeding the child with the milk that comes from the breast of a human, not necessarily the mother. In some countries, we have breast milk bank as far as it is from human breast. Breastfeeding can be by really attaching the baby to the breast or expressing as long as it is from a human breast.
Exclusive breastfeeding is when you now say you are giving the baby only breast milk for the first six months of his life without water or any form of liquid. It supposed to last for six months from the time of birth and it is usually initiated within 30 minutes.   But a lot of times, we found out that mothers are confused with the issue of water. No other liquids or solids are given with the exception of oral rehydration solution, or drops/syrups of vitamins, minerals, or medicines. And in Nigeria, that is where we have problem. It has remained the greatest challenge to achieving exclusive breastfeeding in the country.
You find that mothers will say they are breastfeeding but they are giving water. Most parents see breast like any other food that you eat and drink water at the end.
However, the breast milk has enough water to meet the breast needs of the child.   It contains all the nutrients that a child needs to grow and survive and, in fact, over 88 per cent of the breast milk is water.   So you don't need to add any water for the baby, otherwise, you will be taking the space of the nutrients from the milk in the baby's stomach.
We should ensure that babies that are less than six months do not take water. If you give water, the baby will not be able to get sufficient milk and nutrient requirements and he will be malnourished.   In addition to water, breast milk contains nutrients such as protein, vitamins, iron, minerals and fats, etc.
What stands breast milk out?
Of the eight major preventive interventions for child development and survival, analysis showed that exclusive breastfeeding has the most impact. Breastfeeding alone could contribute 13 per cent reduction of child mortality. The other major preventive interventions include insecticide treated nets, complementary feeding, zinc supplementation; even immunisation did not even feature among the top eight. You and I know how much we spent on polio eradication. And it does not feature but breastfeeding is at the very top of those interventions that can prevent child mortality. Unfortunately, how much do we know about it and how many of us are talking about it in the media?   This is where the media comes in. It has to take 90 per cent of the population practicing exclusive breastfeeding for us to achieve maximum impact. So it is not enough for you and I to know; the rest of the population also needs to know, otherwise we cannot make impact.
What are the benefits of breast milk?
We have established that all the nutrients that a baby requires to grow and develop are contained in the breast milk including water. So the baby needs only the breast milk, except if the baby is sick and then drugs are prescribed. You do not even need your gripe water and all the things you give babies.
Breastfeeding lowers the baby's risk to allergies such as asthma and dermatitis such as eczema.   Babies who are exclusively breastfed for the first six months of their lives have lower risk of respiratory infection, urinary tract infections, ear infections (acute otitis media), fewer bouts of diarrhoea and sudden infant death syndrome. Sudden infant death is unexplainable death of children. They go to bed and the mother wakes up to find the child dead.
Breastfeeding facilitates proper jaw, dental and speech development and breastfed children have been shown to have less tooth decay.
Breastfeeding also protects the baby from chronic diseases such as obesity and diabetes mellitus. Also, the breast milk contains anti-bodies and other non-effective agents that are transferred to the baby.
The benefits are not only pronounced in childhood but also in adulthood. It has been proven that children that are exclusively breastfed has higher IQ than those not breastfeed. The longer you breastfeed the child, the less chances he suffers from depression and attention issues when he becomes an adult.
What has hindered Nigeria from moving forward in exclusive breastfeeding apart from giving water?
The other thing is returning to work early. Most of our government facilities give three months maternity leave, one month before putting to bed and two months after. So when mothers get back to work and there is no crèche or room where they can have their babies close by to breastfeed, it can be a big problem to exclusive breastfeeding.
However, the mother can express the breast milk and keep at home for somebody else to feed the baby but it's easier when there is a crèche as you can actually go in there and breastfeed the baby yourself.   That is one of the barriers to exclusive breast feeding in Nigeria.
How important is the crèche in the workplace?
It's not just UNICEF, the Federal Ministry of Health, primary health care agencies and all the agencies that are linked to breastfeeding need to advocate for the establishment of crèches but already there are guidelines in work place. The Ministry of Health has a guideline where if you have a number of persons working in a place, you should have a crèche so that when mothers return to work after maternity leave, they can come back with their babies. In some countries, they have shown that when you have crèches next to mothers, they are more productive because their minds are settled that their babies are well taken care of. It's a win – win situation for the organizations the mothers work for and for themselves.
How many months maternity leave is sufficient?
Three months is not enough. However, where they cannot give more, let there be crèches but the ideal situation will be to extend the maternity leave up to six months and Lagos has shown the way forward, they have passed the law for six months maternity leave and Ekiti has followed with four months maternity leave; so we are hoping that others will come along and we will all be targeting six months.
What of paternity leave?
Paternity leave is good. Meanwhile, some organizations are already giving that. UNICEF gives paternity leave in the first week of the baby's birth so that the father can support the mother to do it because breastfeeding is not only the mother's job. It's for the family; all of them contribute to nurturing the child.
How achievable is the UN 50 per cent target of exclusive breast feeding rate?
The target of 50 per cent exclusively breast feeding, which is set globally, is achievable in Nigeria because, if you look at the pattern, you will find that most mothers in Nigeria breast feed. But the problem we have is that many of them give their babies water. We can change that orientation and this requires behaviour change. Therefore, you need to keep giving them the information and the skill to breastfeed properly, which, basically, means teaching them how to position the baby, attach the baby; provide them the support they need at home so that they drop the water and get them to understand that breast milk itself has over 88% water requirement for the baby.
If we can drop the water from 0-6 months, we would indeed achieve much more than 50 per cent. We will be getting almost to 90 per cent of exclusive breastfeeding and we would then be able to derive the benefits, talking about 13 per cent reduction in infant mortality.
How to breastfeed properly
When we talk about positioning, it means the way the baby is carried and attachment is how the baby latches onto the breast. It is a barrier because once a woman is not comfortable breastfeeding and if a child is not properly attached, she is likely to stop because the experience is frustrating. This can even lead to cracked nipples and that is painful. But if we have health workers teach mothers how to carry their babies properly and how to attach them to the breast to cover the areola (dark part of the breast), like, when you are breastfeeding, the mouth is supposed to be wide open and you put in as much as the darker part into the mouth, more women are likely to breastfeed.
The post Water is the greatest barrier to exclusive breastfeeding — Ada Ezeogu, UNICEF Nutritionist appeared first on Vanguard News.