By Sam Eyoboka & Olayinka Latona
WIFE of the General Overseer of Redeemed Christian Church of God, RCCG, Pastor (Mrs.) Folu Adeboye, Friday night, charged large crowds of participants at the church's 65th annual convention to pray for God's mercy, peace and healing of the nation.
She led the people, including Acting President Yemi Osinbajo; Governor of Benue State, Mr. Samuel Ortom, former Governor of Ondo State, Dr. Olusegun Mimiko; the President of Living Faith Ministries, Bishop David Oyedepo, and several other eminent personalities, in praying for the country and her leaders.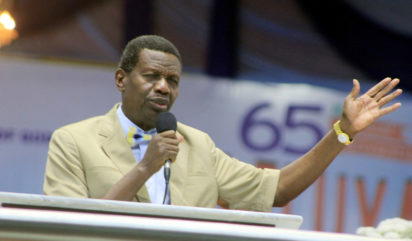 Mrs. Adeboye, dressed in Nigeria's colours of green and white, said Nigeria is in dire need of physical and spiritual freedom from all forms of oppression. She prayed that all mountains and enemies of the nation will be dealt with and pulled down completely.
She also led the large crowds in the two auditoriums situated at the Redemption Camp, along Lagos-Ibadan Expressway, as well as thousands of others watching via different devices across the globe, to pray for President Muhammadu Buhari who is on medical vacation abroad, that God's purpose for him concerning Nigeria will come to pass and give him divine health.
The wife of the Overseer also caused the congregation to pray for Osinbajo, urging divine guidance to steer the ship of state and wisdom to bring about the desired dividends of democracy to Nigerians.
The General Overseer, Pastor Enoch Adeboye, in his ministration at the occasion, described life as a battle field.
Speaking on the main theme of the convention, "Halleluyah", on Day Five of the programme, Pastor Adeboye said most human beings do not always praise God when battling  life challenges, forgetting past victories that God had bestowed on them.
''In any congregation, there are three categories of people, those who have just lost a battle, those who are in the midst of a terrific battle and those who have just won a battle and yet the Bible says everybody should praise Him", he said.
Oyedepo, addressing the gathering, enjoined the faithful to cultivate the habit of praising God at all times, saying praising God activates God's wonder, brings down His presence, bring about supernatural breakthrough among others.
Speaking on the topic: ''Understanding the wonder of praise", he warned against murmuring among Christians, saying such behaviour only complicates one's challenges.
Rev. Joe Olaiya, a teacher, a  media evangelist and a man of immense integrity who believes in healthy balance in life and founder of Winners Chapel Foundation, Kaduna, stressed that the sacrifice of the wicked is an abomination unto God, and therefore urged every Christian to live at peace with God at all times.
The post We need God's mercy in Nigeria — Adeboye appeared first on Vanguard News.