By Davies Iheamnachor
PORT HARCOURT— Former illegal oil refiners in Rivers State have vowed to continue in their illegal dealings in petroleum products until the Federal Government provides them with empowerment.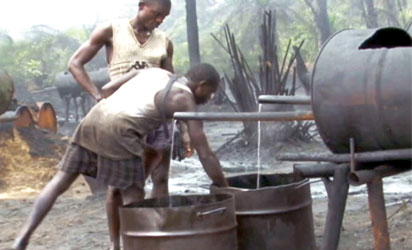 The artisanal refiners, who are mainly drawn from the Ogoni extraction, noted that they cannot leave their only source of survival until the Federal Government provides them an alternative.
Their position was disclosed to Minister of State for Environment and Chairman, Governing Council, Hydrocarbon Pollution Remediation Project, Ibrahim Jibrin, in Port Harcourt, at a one-day consultative meeting organised by the office of the Project Coordination, HYPREP.
Speaking for the ex-artisanal refiners, Mr. Domka Humphrey said they can only stop refining petroleum products illegally if the Federal Government empowers them and include them in the remediation process in Ogoni.
Humphrey said: "Sir, I will tell you our minds, if you don't empower us, we will not stop refining, because this is what we feed our families and relations with. We don't have anything doing after government took away the pipeline surveillance from us.
"So, we need to be carried  along. Some of us are graduates,  many people are still in the bush refining, if you empower us, we will talk to them and they will leave the bush. But where we are not seeing anything, it will  be very difficult for us to leave the illegal refining."
Meanwhile, Minister of State for Environment, Ibrahim Jibrin, in his address to the ex-artisanal refiners, said: "I have heard all of you, I'm assuring you that the issue will get to the acting President, but remember that you have fishes of all kinds, animals, we cannot get them if you contaminate the water with hydrocarbon pollution."
"It is in our interest to keep our environment clean, it is in our own interest to ensure that whatever we must do, we have to take care of our environment. That is why the Federal Government has taken the issue of modular refinery seriously.  It is community-based. It is going to be regulated. There is need for us to organise ourselves into responsible cooperatives."
The post We'll continue operation till you empower us, ex-illegal oil refiners tell FG appeared first on Vanguard News.