THE ancient town of Iwo inOsun State, recently witnessed a massive convergence of royal fathers, clerics and traditionalists who held a prayer session for ailing President Muhammadu Buhari and Governor Rauf Aregbesola.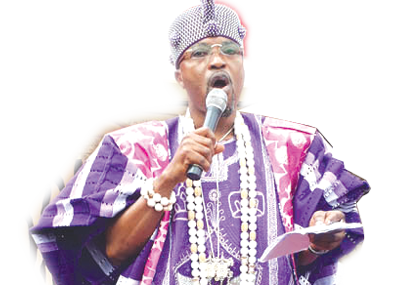 The prayer session was organized by Iwo monarch, HRM Oba AbdulRasheed Adewale Akanbi – the Oluwo of Iwo Land. It had in attendance more than three thousand people diversified in religion, ethnicity, and geographical locations. The audience prayed together at the palace of the Oluwo of Iwo.
With more than 200 clerics including Christians, Muslims and traditionalists, they all prayed for ailing President Muhammadu Buhari. The clerics and leaders of different religious affiliations included the Iwo CAN Chairman, Pastor Caleb Ayoola; Iwo Muslim Community leader, Chief Imam Sheik Abdulfatai Olododo; Leader of Iwo Traditionalists, Chief Ojetunde Ajibowu.
Speaker of the Lagos State House of Assembly, Hon. Mudashiru Obasa, was represented by another distinguished member of the House, Hon. Tunde Buraimoh at the event. Other dignitaries in attendance were the  Deputy Speaker of the Oyo State House of Assembly, Barr Musa AbdulWasiu; Wife of the Oyo State SSG, Mrs. Halimot Alli, who represented wife of the President, Aisha Buhari; Alhaji Daud Makanjuola, the Aare Musulumi of Yorubaland; Members of the Lagos State House of Assembly, Traditional Rulers and members of NURTW and RTEAN, among others
Speaking at the event, Oba AbdulRasheed Adewale Akanbi declared President Muhammadu Buhari as his son. He said, "Buhari is my son and I can never be happy if people should wish him dead. What kind of father will I be if I decide to join the league of Nigerians who want him dead?"
Oba Akanbi also declared his support for Buhari's second term, saying "he must rule for eight years in good health and sound mind. It is painful that those who launched that campaign of 'Resume or Resign' are not patriotic as they claimed. They politicised the campaign which shouldn't be. If any civil servant or police officer falls sick, will you advise such persons to resign? Those clamouring for Buhari's resignation are not sane."
The Oluwo, however, prayed to bear Buhari's sickness. He said,"Let Buhari's sickness, pains, and sorrows, come to me." The Iwo monarch said that the well-being of Nigerians was paramount to him, adding that if bearing Buhari's sickness would guarantee good governance in Nigeria, so be it. He said the prayer was not in anyway political as he would do the same for anyone occupying the seat of power.
The post When Oluwo of Iwo land prayed to bear Buhari's sickness appeared first on Vanguard News.