By Muyiwa Adetiba
Politicians are a special breed. Three months ago almost to the date, the British FA Cup Final between Arsenal and Chelsea Football Clubs was about to be played. A close friend who happens to be a politician—his last elective post was in the National Assembly—called to ask where I was going to watch the match and suggested we watched it together. Sensing my hesitation, he turned on the charm as politicians are wont to do.
It would be fun he enthused. He would grill some chicken and have some 'asun,' the Ondo goat meat delicacy, prepared. Of course, choice drinks were a given. I reluctantly agreed to be at his place. My initial hesitation had nothing to do with his person. We have come a long way together and do enjoy each other's company.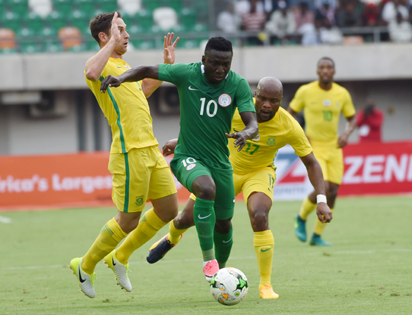 But he is a strong Chelsea fan just as I am a strong Arsenal fan and going to his house to watch such an important match was like going to an enemy camp unprotected especially since the odds were in his team's favour. Chelsea, the premiership champions were tipped to win the FA Cup. Should Arsenal lose, I felt I would need some privacy or at best, some anonymity and not expose myself to some thinly disguised jibes from a friendly enemy.
Although he didn't expressly say so, I had thought it would be just two of us. I was surprised to find a small 'crowd' of politicians. Fortunately, I knew many of them—one was a former SSG, one, a past chairman of a local government, one was his colleague at the National Assembly. We relaxed with a few jokes and soon settled down to watch the match.
These politicians appeared neutral as my friend and I traded tackles. Arsenal scored very early in the game as football buffs would remember. I was the only one that was jubilant. My friend was irritated but still tried to act the perfect host. The other guests hid their emotions apparently. As the game wore on, one faced his phone giving the impression that he was not really a football fan. We chatted about the affairs of the country and the affairs of politicians. First half went, and second half started.
Then Chelsea scored. I was surprised to see the room erupt. Hands went up in the air; hugs were exchanged. They even had the nerve to walk up to me and shake my hand in jubilation. I could only shake my head as neutral bystanders became active participants. In sports as in everything else, politicians are a special breed. I pointed their deviousness to them and they tried to put up a brave face. But then, what I had feared had happened. I had placed myself in an enemy camp.
I felt like a Daniel in the lion's den, out-numbered and encircled. Fortunately, the jubilation was still in the air when Arsenal scored. The mood became subdued. They had showed their hands and couldn't pretend to be neutral anymore. It was my turn to walk over and shake their hands. One soon left, citing an appointment. Such is the passion of football. It brings out the best and worst in people. It also unmasks character flaws and personality traits.
The European football season is with us. The season of passion is here again. This morning will witness the opening matches of the EPL apart from the Arsenal match of yesterday night. La Liga and others start next week. The expectations have been high with fans monitoring new signings for their respective clubs.
It is the first season a player has been bought for over two hundred million pounds with a teenager being offered for over a hundred million pounds. If football has gone mad, its fans have gone even madder investing time, energy and good money in their respective clubs. Clubs spend crazy money because it is sustainable. It is sustainable because the fans have made it so. It is a big business out there with big advertising, image rights, viewing rights,   sponsors and gate fees.
Where do you watch your football? For those who like to watch their matches in clubs, bars and lounges, it is not the season many spouses look forward to because it is the season their partners become rare commodities at home. But it is the season for most friends to re-unite over beer and friendly banter. For those who like to watch in the comfort and seclusion of their homes, it is the season for wariness on the part of their spouses as any meaningful discussion can only start when the particular match they are watching is over. It also pays for the spouse to know if their partner's team has won or lost before making a request as many fans become irritable and testy if their teams lose. All told, it is a season that charges most fans and turns many into optimists and gamblers of sorts.
I am sorry if you don't feel as charged or as expectant as some of us are. Or if you feel there are weightier matters in the country to discuss other than football. It is precisely because of the many weighty and often depressing matters in the country today that I have chosen to write on football. I forgot to add, this season is also, a season of escapism.
An escape from recession, depression and senseless political brinksmanship.  Those who say we should support local teams have a point. But you cannot decree passion and loyalty. I used to go to the National Stadium in the 70s. But soccer then was worlds apart from what it is today. While soccer has exploded as a global business all over the world, it has retrogressed in Nigeria.
Yet football can do so much for us if properly managed. Apart from having the allure to take our kids off the street and away from crime, it is also a potential money spinner in terms of foreign exchange and generation of employment across board.  It is amazing how many people live comfortably off football and its spin-off in other countries. But for our football to be taken seriously, it has to be knowledge based and integrity based. You cannot run football on quota system, nepotism or blatant corruption and hope to succeed.
Like everything else in Nigeria, football is waiting to explode as an employment and money spinner if only we can do the right things. The talents we have; the potentials we have are waiting for the right impetus; the right push. Meanwhile, wherever you choose to watch your football this season, please keep safe and avoid unnecessary shows of passion. The 'Beautiful Game' is after all, just a game.
The post Where do you watch your football? appeared first on Vanguard News.