By Chinedu Adonu
ENUGU—NIGERIA civil war veteran, who fought on the side of the defunct Republic of Biafra, Prof. Okoro Akpa, has added his voice to the growing call for peace and increased national cohesion in the face of growing agitations and hate speech in the country.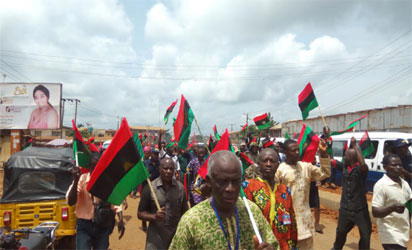 Prof. Akpa, in a chat with newsmen, recently, pointed out that Nigeria is better united and urged both the Indigeneous People of Biafra, IPOB, leadership; Arewa youths and other parts of Nigeria that have been issuing quit notices and ultimatums to withdraw them and move for a more united and prosperous country.
He said: "The Federal Government should sensitize Nigerians to love each other and to love the country because we have no other country than Nigeria. We must realise, understand and accept that the instrument that brought all of us together was an act of  God and all those who did it only came to fulfill their mission.
"The North should be told that murder is sinful and that murderers will go to hell and there is no reason why any Nigerian should kill a fellow Nigerian. They  should also know the legal consequences of murder.
"The North should be made to know that no particular region or group is born to rule Nigeria ;that Nigeria is equally owned by all and that a leader can emerge from any place no matter how remote."
He expressed the view that if industries are established, and the teeming youths gainfully employed, the country would be a better place to live in and even suggested that youths should be sent abroad to learn how to build ships, cars and other things that made the Western nations tick.
The post Why Nigerians must seek peace, not war — Ex-Biafrian soldier appeared first on Vanguard News.