A new episode of Globacom's hilarious TV drama series,  Professor Johnbull, goes on air on at  8.30 p.m.  on Tuesday  night on  NTA Network, NTA International on DSTV Channel 251 and NTA on StarTimes.
A major highlight of the edition will be a guest appearance by youth influencer, Dominic Elujiofo, popularly known as Jay Kolo.  Also, Nollywood legend Kenneth Okonkwo (Andy of Living in Bondage) will feature in the programme alongside Kanayo O. Kanayo, who is the lead character, (Professor Johnbull), Olaniyi (Yomi Fash-Lanso) and Etuk (Imeh Bishop).
Entitled  Married to the Family,  the new episode will focus on Africa's peculiar values in a fast changing world in relation to the institution of marriage.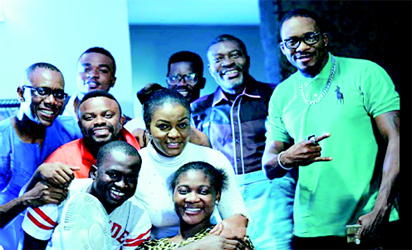 Globacom said in a statement, "The tensions in many homes today are caused by the African man's concept of marriage and its requirements. Africa's worldview about marriage, is no doubt fantastic. However, there are some inherent excesses in the world  and these excesses are, to a greater extent, inimical to the peace in many homes. The roles of in-laws in making or marring homes cannot be wished away. This is why every individual desirous of a tension-free home should book a date with  Married to the Family".
Married to the Family  showcases Professor Johnbull as not only cerebral but a also as a man who combines western education with native intelligence, as he adjudicates on the issues of in-laws' interference in the marriage of his neighbours as they come to seek his counsel on issues.
He answers questions like : What is Africa's definition of marriage? What should spouses do about depressing demands from in-laws? How powerful is the 'we are related syndrome' in African marriage system? Should spouses please in-laws at the expense of family peace?
The repeat broadcast comes up at  8.30 p.m.  on Friday  on the same television channels.
The post Youth Influencer, Jay Kolo,  features  in new episode of Glo's  Professor Johnbull appeared first on Vanguard News.