By Joseph Erunke
ABUJA-THE Government of the United States of America, USA, yesterday, bestowed a rare honour to a Nigerian Navy attache, Navy Captain Kolawole Oguntuda, with its Presidential Medal of Honour.
Oguntuda, who is the Nigerian Deputy Military Attachee to the United States, bagged the honour for his outstanding achievement in playing a wonderful part in advancing a strategic role by enabling cooperation between the US and the Nigerian Navy.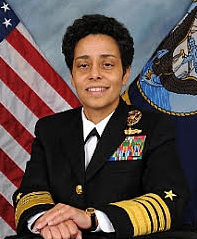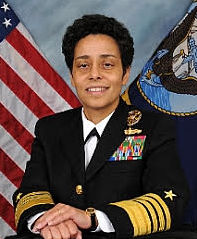 Commander, United States Naval Forces in charge of Europe and Africa, Admiral Michelle Howard, presented the award to the Nigerian born Oguntuda, on behalf of President Donald Trump, at the Nigerian Naval Headquarters, Abuja.
Speaking at the brief but colourful ceremony, Admiral Michelle Howard
observed that the increasing wave of maritime crimes, terrorism and militancy in Nigeria was posing a great threat to the Nigerian economy.
But in a swift reaction to the observation by the American Government representative,
Speaking at the event, Chief of Naval Staff CNS, Vice Admiral Ibok-Ete Ekwe Ibas, dismissed the claim, saying the Nigerian Navy will work hard to halt such threats by the Niger Delta militants as observed.
"We actually don't need people from outside to tell us how strategic Nigerian Navy is in securing our environment. Nigerian maritime space and the Gulf of Guinea. We have all been witnesses to security challenges we have had, "he said.
Howard had said:"Firstly, I want to congratulate Capt Oguntuda on his outstanding achievement. He has played a wonderful part in advancing the strategic role by enabling cooperation between our two Navies."
She spoke further:"This cooperation has become more and more vital when you think about Nigeria position as a regional leader. Your geographical location, population and economic power means that you have a strategic and crucial place in global and regional politics.
"And this assertion is more and more certain. United Nations predicts that Nigeria will have the world's third largest population two decades from now."
She opined that Nigerian "economy is likely to grow five times its current size in the same period making Nigeria a regional engine for growth.
Hear her:"The growth does not come without challenges. In Capt Oguntuda work directly supports bilateral efforts in countering terrorism, humanitarian response and capacity building.
"The maritime environment and threats to stability are crucial. Oil extraction and production accounts for 75% of Nigeria's revenue with the vast majority of oil infrastructure existing off shore or really close inshore. So terrorism, criminal networks, illegal bunkering with damages of oil pipeline directly threatens Nigeria economy.
"That is where navies come in. I as the commander regards the NN as a key regional partner in securing the Gulf of Guinea and I seek to strengthen our relationship assisting you in providing protecting to Nigeria's future for economic security and enhancing regional stability. Once again."
"The maritime environment has these spate of piracy attacks, robbery, last year especially, also had some elements of resource theft, including illegal fishing in our waters, we saw some elements of human trafficking, arms trafficking as well as drug trafficking, not to mention waste dumbing and environmental concerns."
Ibas, on his part explained that "the strategic role Nigeria plays is what has brought America."
"For the threats you mentioned in the Niger Delta, one thing I want to assure you is that so long as human beings exist, there will always be conflicts, and once there are conflicts, there would always be ways of resolving those conflicts.
"For Nigerian Navy, we will continue to build our capacity and capabilities to enable us contain such threats," Ibas stated.
On securing Nigeria's maritime territory, the CNS explained that "if Nigeria is the main concern to look at in the sub-region, Nigeria therefore becomes an important country for those who have interest in this region, to come and have conversation to see how they can enhance the maritime law enforcement agencies, in this case, the Nigerian Navy in particular to see how we can make the maritime environment secured and promote trade and prosperity in the region.
"US government has always been offering us support. The sea do not belong to any particular individual, they are global commons, and transnational crimes that occur, means that from one country to the other, your security can be compromised if the sea space is not properly governed, "he added.
The post America honours Nigerian Navy attache with presidential Medal of Honour appeared first on Vanguard News.