Hurricane Katia strengthened on Friday to Category Two storm on a scale of five as it raged towards the eastern coast of Mexico, authorities said.
Mexico's National Water Commission meteorological authority said Katia picked up strength as it swirled in the Gulf of Mexico 205 kilometers (127 miles) from the major port city of Veracruz.
Pope prays for victims of Mexico quake, Hurricane Irma
Pope Francis said he was praying on Friday for those killed and bereaved by the 8.2-magnitude earthquake that struck Mexico and by Hurricane Irma in the Caribbean.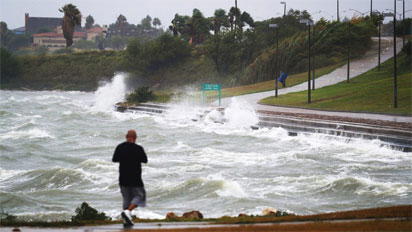 "I wish to express my spiritual closeness to all those suffering the consequences of the earthquake that struck Mexico last night… My prayers for those who have lost their lives and their families," Francis said at a mass in Colombia.
He added that he was "closely following the development of Hurricane Irma… I am praying for them."
All Florida residents 'should be prepared to evacuate', warns governor
Florida Governor Rick Scott warned Friday that all of the state's 20 million inhabitants should be prepared to evacuate as Hurricane Irma bears down for a direct hit on the southern US state.
"The storm is powerful and deadly," Scott said. "Do not ignore evacuation orders.
"Remember, we can rebuild your home, we can't rebuild your life," he said. "All Floridians should be prepared to evacuate soon."
Irma was downgraded overnight from a Category Five to a Category Four storm but it is still considered extremely dangerous, packing winds of 150 miles per hour (240 kilometers per hour).
"Today is the day to do the right thing for your family and get inland for safety," he said, adding that the storm "is wider than our entire state."
"It is expected to cause major and life threatening impacts from coast to coast," Scott said.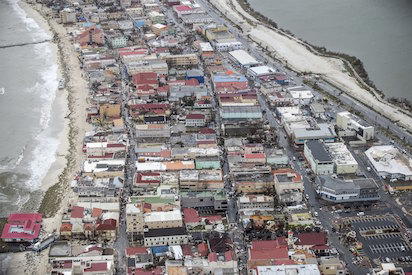 US stocks dip as Hurricane Irma approaches Florida
Wall Street stocks dipped early Friday as a monster-sized Hurricane Irma ripped through Caribbean and headed towards the United States.
At least 17 people were killed as Irma, with winds of 150 miles per hour, laid waste to a series of tiny islands like St Martin on its way towards the state of Florida.
The storm comes closely follows Hurricane Harvey, which pummelled Houston and the US Gulf Coast late last month and is estimated to cost $60-$100 billion, according to IHS Markit.
"As in past storms, Harvey will hurt near-term economic growth. Loss of life, damaged infrastructure, and disrupted businesses will take a huge toll on the devastated areas," said an IHS note.
"However, as in the case of past storms, the reconstruction efforts — which have already kicked into gear — will boost GDP growth."
About 15 minutes into trading, the Dow Jones Industrial Average stood at 21,771.81, down 0.1 percent.
The broad-based S&P 500 lost 0.1 percent at 2,462.35, while the tech-rich Nasdaq Composite Index shed 0.2 percent to 6,387.65.
Credit reporting agency Equifax sank 13.2 percent after it disclosed that it suffered a hack that affected as many as 143 million US customers, nearly half the country's population.
Equifax said hackers obtained names and social security numbers of consumers, as well as credit card numbers for some 209,000 people.
But shares of cybersecurity companies gained, with Symantec winning 4.1 percent, Palo Alto Networks 2.2 percent and FireEye 0.9 percent.
Supermarket chain Kroger jumped 6.5 percent as it reported that second-quarter comparable stores sales rose 0.7 percent compared with the year-ago period, as aggressive moves to keep prices down lured in more shoppers. Net income fell 7.8 percent to $353 million.
The post Another Hurricane, Katia warms up after Harvey, Irma, strengthens to Category Two appeared first on Vanguard News.