Ola Ajayi, Ibadan
Governor of Delta State, Dr. Ifeanyi Okowa, has said restiveness of youths and agitations from different parts of the country is a consequence of the lack-lustre performance of the ruling class.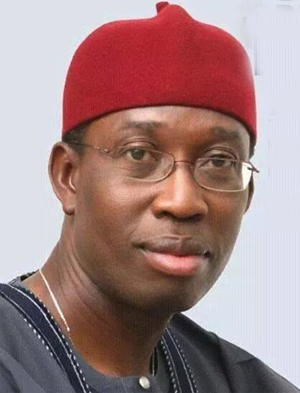 Instead of political restructuring into regional system of government that is now being clamoured for by some Nigerians, he said he would prefer what is called restructuring of minds and policies which would translate to good governance.
He said this after delivering the 2017 Alumni Lecture of the University of Ibadan, entitled: 'Good Governance for Wealth Creation and Sustainable Development: Experiences and Lessons,' at the institution's Trenchard Hall.
Okowa, who received the most distinguished award presented by Alumni Association said, "The issues to restructuring are in many parts. You can see as at today, the discourse on restructuring is in various parts; some are trying to restructure the system of governance, some are trying to restructure in terms of geo-political zones and all manner of things, that is not the key thing.
"What we need to do first is to restructure our mind and to restructure our policies in such a way that governance is directly linked to the people and whatever we do, we must ensure that it's all inclusive.
"When the people are happy and when we are actually beginning to impact on the people in a more positive way and there is less hunger on the table and there's more employment, you'll find that people will have less discourse on issues of restructuring and issues of sensation. Those things won't come to mind, the holistic thing is that all these issues are actually bordering more on failure of governance.
The governor, who donated the sum of N85m on behalf of his cabinet members for the postgraduate hall initiated by the association, further said "I am not saying restructuring is not important. But they are bordering more on the failures of the governance system to such an extent that people are now feeling very pained over the years. It's not the fault of one particular government. Over the years, we have failed to diversify the economy.
"We have just concentrated on the oil economy, and to that large extent, we try to destroy the agricultural economy and industrialisation, which was already picking up at a point in time. We refused to use the money from oil to critically address those issues and that is what has brought us to where we are. It is the pain that the people are going through that is making people to begin to talk about the discourse of restructuring.
Yesterday, six categories of awards were given to various recipients. They included Prof. Chevalier Itsueli, who received two awards of longtime achievement and most distinguished awards.   Others who were honoured with most distinguished awards were Dr Toyin Phillips, Dr Peter Singabele,  Prof. Sam Okay Mgbor, Prof. Bolanle Awe, Engr Edward Ugo Chukere, Prof Ukwu. I Ukwu, Olola Olabode Ogunlana, Prof Oburo Ikime and Prof Adetoun Ogunsheye.
Other awardees of worthy ambassadors included Prof. Ajibofun Igbekele, Alhaji Kehinde Ogunfowodu, Chief Dr Julianah Kalusi, Mr Daniel Imani, Prof Gabriel Okagbare, Chief Roselyn Egborge, Chief Dr. Augustine Hange Nyikwagh, Mrs Morenike Alaka and Chief Adesola Adebayo Rasheed.
The post Bad governance cause of agitations, youth restiveness — Gov. Okowa appeared first on Vanguard News.