BY JIMITOTA ONOYUME
Barely two weeks after, protesters are still in control of Oil Mining Lease, OML 25, thus preventing Shell Petroleum Development company from producing and exporting commercial oil from the area.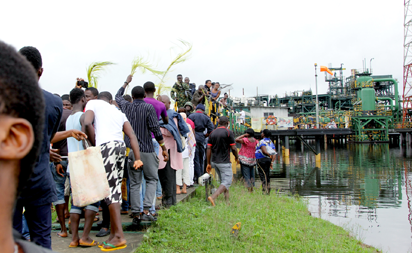 Sweetcrude investigations showed that the protesters, mainly youths from Belema in Rivers state have vowed that they would not leave the vicinity untill Shell divest from the facility  for an indigenous  oil firm to take over.
The protesting women, youths of the host community, vow to occupy the flow station  for as long as six months if their demand was not granted.
They accused the oil multinational, Shell of allegedly neglecting them, leaving them in penury since it commenced operation in the area over three decades ago, an allegation the oil giant denied.
However,  there appears to be a crack  in the community as some were opposed to the actions and demands of the protesters.
Chairman, Belema Council of Chiefs, His Royal Highness, Ibinabo Kalaoriye in a radio announcement recently   dissociated the community from the protest, insisting that it was allegedly sponsored by those who did not mean well for the area.
The monarch maintained in the announcement that those behind the protest were not from his community, arguing that there was no way sons and daughters of his community would embark on such a mission without his permission.
"As the Amanyanabo of Belema community, I am not in support of such a protest.  This is to inform the general public that the protesters are not indigenes of my community, if  not they could have consulted me before embarking on such protest.
As the king of the community, I have come to discover that the protest was sponsored by some persons who do not have the interest of the community at heart.  This protest did not have my support and the people of the community", he said.
Findings showed that the  flow station is run on a joint venture arrangement with Shell having thirty percent. This simply implies that the oil giant does not exercise one hundred percent ownership over the facility.
Meantime, Shell on its part has said in a statement that it  had always discharged its corporate social responsibility, CSR,  in the community,  stressing that they include  steady power supply, provision of   scholarship opportunities, employment of skilled and unskilled labour and engaging indigenes of the communities as its contractors
General Manager , External Relations, Mr Igo Weli in a statement said the company's  Joint venture setting had   invested over N352 million to renovate schools, organize health outreach programs, construct walkways and enhance  quality of sanitation in communities in the area, including Kula.
"The host communities of OML 25, including Belema and Offionama have continued to benefit from contract awards, employment of unskilled labour and our social investment programmes, including yearly award of regular and special scholarships to eligible candidates from the area. With the divestment of its interest in OML 24, SPDC relinquished operatorship of the facilities in that field.", its statement read in parts.
" Despite the challenging environment, the SPDC JV set aside more than N600 million for a five-year period beginning 2014 for development initiatives at Kula and the satellite communities of Belema, Offoinama and Boro. SPDC JV has also invested over N352 million in Improvement of school infrastructure, sanitation and health outreach programmes, construction of walkway for the community and electricity supply in Kula Kingdom in the past 10 years.", he added.
GMOU setting for communities
He also spoke of its Global Memorandum of Understanding arrangement with Belema community, explaining that it gave  right to the community to   nominate project, execute them with funds from the oil giant. He said the structure had brought some appreciable human and infrastructural development to the area.
Continuing, he said  painfully the GMoU for Kula that was set up in 2014 had not been  able to function because of  several court cases with it as co defendant
"A GMoU was eventually signed in 2014 for the Kula Cluster but has not been implemented because of continuing intra-community disagreements. As at 2015, there were a total of 11 court cases involving different groups with SPDC as a co-defendant in all of them.
Sadly, these legal suits and disputes have rendered it impossible to implement more planned development projects in the affected communities,", he said.
Weli said though Shell had divested its 30 percent in the Joint venture agreement in Kula, simply put, it had pulled out of Kula and some communities in the area but the communities had continued to enjoy its social investment programs.
He said N263 million was expended on the community through a creation, Kula Project Implemenation and Monitoring committee, PIMC.
" the creation of the Kula Project Implementation and Monitoring Committee (PIMC) in 2012. The PIMC served as an interim platform for the delivery of social investment initiatives and programmes worth N263 million in the Soku-San Berth Project. These projects are separate from the GMoU projects initiated by communities using funds provided by the SPDC JV
Notwithstanding that SPDC has divested its equity in OML 24, which covers most of the communities in Kula and Belema, the SPDC JV has continued to implement agreed Social Investment programmes such as scholarship and entrepreneurship schemes for the communities there"", he said.
The post Belema: Protesters still in control, scuttle oil production appeared first on Vanguard News.