By Ndy Akosa
PRESENTLY, the reigning vibes in the Anambra State political terrain is this ear-boozing song – Godfatherism. Most Anambrarians believe that His Excellency Dr. Willie Obiano is evidently so desperate to clinch a second term berth that his followers, who are thinning out by the day, are crabbing at straws like the proverbial drowning man.
From the saying that the former governor, Peter Obi was demanding seven billion naira from the incumbent governor as the money spent while the 'Godfather'(Obi) installed his Godson(Obiano) to the fairytale that Obi left APGA on his own for pursuit of Federal appointment, down to the fact that he betrayed APGA by leaving the party, and on to such concocted tales – all in efforts to make Mr. Obi abandon any interest in Anambra State politics of 2017.
But Obi, though not interested in responding or exchange words with them amidst very tempting provocations, decided to cut their ice by getting deeply involved with same election. Their disappointment could be felt, seen and even touched as the brazen accusations of all sorts of conjecture at very evident maligning could not deter the ex-governor from assisting in ridden his dear state ofwhat many perceive as aliens in power.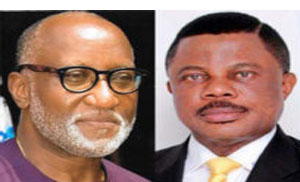 Right from when primaries were close and hot, Obiano's cronies were busy shouting, attempting to sow seeds of crisis in the Peoples Democratic Party, PDP,  because it was then clear that former Secretary to the State Government, Oseloka Obaze was not only a strong contender but also being supported by Obi. From under table intrigues of clandestine nature to open rascality like arranging a handful of paid protesters in Onitsha, the Obiano camp went agog with what many call debasing politics of open blackmail and outright lies masked in propaganda.
But recently, they seem to have settled on Godfatherism. Their deep-like-the-ocean undercards yielded no fruits as Obaze  cornered the PDP candidacy in flying colours. It then became very glaring to the Obiano camp that the man they dreaded most, even from the very day of handover, is poised to rock their boat. So they went wild with this new Godfatherism chant. They force a move back to history by resurrecting the Dr. Mbadinuju days with Sir Emeka Offor, the Senator Chris Ngige days with Chief Chris Uba to mean Godfatherism should not be  allowed again in Anambra State.
But they forget to bring in the king of them all – the late Eze Igbo gburugburu, Dim Emeka Ojukwu. Wasn't he Mr. Obi's godfather? What about Obi himself? Wasn't he Gov. Obiano's godfather? Let's face it – Obiano himself confessed he was in  his swimming pool when he was called home to govern. He was provided even the air ticket to fly home to answer  that call. According to Joemartins Uzodike on various radio appearances, Obiano came home with a jerry-curled hair. He was taken to a barber's shop for  a more  responsible look, clothed and fed until he became governor by the man who made him governor. In all we hear about Godfatherism none has been as completely domineering in execution like the one Obi did for Obiano.
Today, let's agree that Obi is Obaze's Godfather…but Obi is not taking care of Obaze's looks. As SSG for three years at least he inherited official cars he's still using. He's conveniently taking care of himself and family. He's made enough savings as a very prudent man to purchase his own nomination and declaration of interest forms. He's been funding his campaign team. In his fleet are vehicles he personally bought to boost his campaigns.. His posters, literature, handbills, various meetings must have been sponsored by the man.
If Obi was Obiano's Godfather, did Obi once  arm-twist  his godson? When this godson and the other godfather, the former national chairman of the party, demanded that Obi  leave the party, didn't Obi leave immediately? If there's any truth in this propaganda-gone-sour, why didn't Obi insist on being paid this sum before he left in the true ways of the Godfather Obiano and his cronies want ndi Anambra to believe Obi represents? And the bold question should be – WHAT MANNER OF GODFATHER WOULDLEAVE HIS GODSON'S PARTY IF INDEED HIS INTEREST  WAS  ABOUT RECOUPING HIS CAMPAIGN FUND?
But looking at the man Peter Obi, which state in Nigeria would not truly wish he was a godfather in anointing any governor? Can a good husband be a bad man? Not likely. Obi, in eight years of governing Anambra State developed all parts of Anambra via ANIDS. Poverty Alleviation; Education; Health; Security; Agriculture; Road Infrastructure; Public Utilities; Water; Judiciary; Housing; etc – Obi scored first in all these. He brought the state to enviable positions in all departments that for once, ndiAnambra sang in unison that he was God-sent.
What was Obi's secret for performance? Professionals say it's PRUDENCE and I can't agree more. Obi was so prudent that he was christened Aka Gum meaning his hands were so glued, they would hardly open . Yes, he aka-gummed Anambra's scarce resources such that he was able to give real governance to the people. That's why they love him….they shout Okwuteee anywhere they see him. They still love the only real governor they've ever known. Ndi Anambra dream of another governor like their Okwute once more. If indeed he is a Godfather to Obaze it is to the latter's huge benefit. For if 20% would have voted for Obaze while  standing alone, 80% would vote for same man with Obi standing beside him. This is a huge advantage other candidates don't have.
This is the major set-back the other godson lacks that is driving his camp crazy. This is why they are lying to and cajoling ndi Anambra to reject Godfatherism. There are Godfathers and there are Godfathers. Peter Obi is one Godfather ndi Anambra will welcome with open arms. Already majority are saying – if Obi tells us to vote for Obaze we will gladly do so.
Anywhere in Anambra, every of the 177 communities have more than one reason to welcome Obi with genuine love. He's built schools, constructed roads, built hospitals and health centres, provided amenities, gave industries boost, provided poverty alleviation via agriculture and SMEs, etc. Such a man should be called back to be a Godfather any time. Because today, the hawks are back in governance, what the poor masses see is governance of enriching private pockets and deprivation  of the poor, and incredible  taxation regime after Obi's tenure.  What they see is a government where the only finished projects are located in one community – Aguleri, with its completed 35 roads and on going stadium.
The masses will want the Obi days to return. They are happy that Obi is interested in bringing those days back by being actively involved. In fact, they were afraid that since Obiano disappointed in continuing with good governance that Obi would abandon Anambra. But they now know how much their Okwute loves them. They will do everything to see those great days back.
The post Between Obiano and Obaze appeared first on Vanguard News.