UwemedimoNwoko is Akwa Ibom's State Attorney-General and Commissioner for Justice. In this interview, he speaks extensively on the rule of law, quick dispensation of justice, criminal justice system and death penalty as deterrent for capital offences. Excerpts: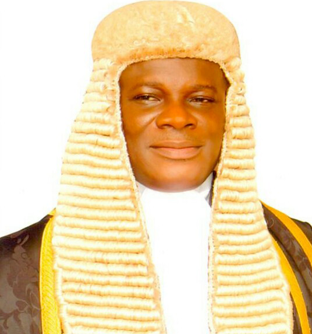 By Dayo Benson
HOW would you describe rule of law and justice delivery system in Akwa Ibom State since you assumed office as Attorney General and Commissioner for Justice?
My background lies in the respect for the rule of law and a quick dispensation of justice both in the criminal justice delivery system, which had been re-engineered to meet international best practices, including the civil justice delivery system. We are also trying to make sure that we create a procedural system that enhances quick disposal of cases.
As an activist and defender of the people's rights over the years, I've been bothered about the protection of the rights of individuals, particularly the ones involving criminal justice system. And to that extent, I have worked towards ensuring that criminal trials can move as fast as possible if allowed by the rules of procedure.
Rules of procedure
What I did principally, with the one that is firmly and squarely within the purview and powers of my office, was to ensure an effective process to facilitate legal opinion concerning people that have been charged to court, remanded in custody or awaiting the Director of Public Prosecution's opinion.
I inherited files that were about 10-12 months old involving people who were awaiting trial and opinion yet to be given. In the last two years, I've been able to reduce it to about one month. Currently, we are treating the month of July files in my office. If I run into any file with May or April date, I would like to find out why such afile is still in the office. Sometimes, we may discover that the delay is due to the complicated nature of the offences alleged and nature of investigations that had to follow.
Most times, it also involves situations where the police couldn't tie all loose ends when it comes to investigation, and then we are prompted to send the file back to them to conclude or clean up some aspects. Cases are either won or lost at the point of investigation if the police cannot provide you with adequate information to support your case. It, therefore, becomes dead on arrival. This is the reason we send the files back to the police for clean-up.
Generally, I have been able to reduce the time frame of the delivery of opinion to between one month and three weeks maximum. That way, we would no longer have cases where people are unduly detained. One of the things that broke my heart when I resumed office was when I found several files of people being detained for eight to 10 months. At the end of the day, the opinion would be that they have no case to answer. Hence, they would all be released. Although you can't easily account for the time lost and the pains that person was subjected to. I detest such practice. This is part of what we have achieved so far and it's all to the credit of the team I am working with. However, that is within my powers but when it comes to full trial, it involves the judiciary and my office, and it takes a longer time.
Meanwhile, in the civil aspect, the major focus of this present administration in the State is industrialization. Industrialization has to do with investments either local or foreign direct investment. This is simply referred to as business. Every businessman wants a quick solution whenever he encounters a dispute concerning his venture. He would expect a quick delivery of justice to enable him kick-off and not allow his money trapped in the system. He wants to see the issues settled promptly to enable him go back to business. This becomes a challenge considering the slow nature of our procedural trials.
So, what is your assessment of the criminal system justice in Akwa Ibom State in terms of crime rate compared to other places?
Generally, not as a local statistics but on national statistics, Akwa Ibom has one of the lowest crime rates in the country. And we have also been rated as one of the most peaceful and secured states.
Peaceful and secured states
Safety involves the sociology of a place and the indigenes of Akwa Ibom State are not those who are sold out to crime. Most of the criminal offences committed are cross-boundary events. We are so drastically affected by our proximity to Port Harcourt, Aba in Abia State and some other cities like that.
So, this makes it easy for criminals to cross our boundaries, commit crimes or strike and disappear again. It's basicly an event that has been there over time but the security architects in the state have been designed in such a way that any person that seeks to commit a violent crime within our territory must be prepared for war. This is because if you come into cities like Uyo, which is the capital, you hardly move 200 meters without finding a stationary patrol vehicle located at major bus-stops, entry and exit points within the city.
So, we have a response time that is less than five minutes from all locations. If there is any incidence and a radio message is dispatched, within five minutes from all locations, there must be contact with the location where the alarm is raised from. That makes it very difficult for people to operate and exit.
The Federal Government recently directed immediate execution of inmates on death row nationwidedue to prison congestion. How would this impact on prisons your state?
We are being faced with prison congestion and such situation basically occurs because we are running a defective federal system; assuming there is even one in Nigeria. The reason I said that is because no state government owns a prison facility in Nigeria since all the prisons belong to the federal government and are being controlled by the Ministry of Interior.
I recall when the Ministry of Interior made a courtesy call on the governor a few months ago, after observing that the state has indeed one of the lowest congestion records. But then we are still suffering from it and the reason is not because the criminal justice delivery system in Akwa Ibom is not working but because the prisons are owned by the federal government.
So, even if you clear Uyo or Ikot Ekpene prisons today, two weeks after, the owners of the prison would relocate other prisoners from other states and bring them to fill up the space. This is simply because other states have worse records than us. So, no matter how many prisoners you remove at the end of the legal year, it will not change anything. This makes us work practically in vain.
Do you think execution of inmates on death row is a panacea for prison congestion and to what extent has your state complied to the directive?
It could help, although I don't know how many people are on death row. As far as we are concerned, the problem is that in most cases a lot of people who have been condemned to death have pending appeals and so many of these appeals take longer time to dispose of. Hence, until an appeal is disposed of, any execution carried out is against the law.
If you recall the case of Bello Vs AG Oyo in 1986, there was a great pronouncement following that event. In that case a person was convicted of armed robbery and while his appeal was pending, the military governor signed the execution warrant which led to his execution. His family went to court and filed that their bread winner was executed while his appeal was pending, and the court eventually granted it. They finally won in the Supreme Court.
However, the issue of how many are on the list is a question of statistics because I don't have the records with me particularly, arising from our state, the governor has said clearly that anyone who is convicted and has his case closed as far as execution is concerned, he will sign the death warrant. In regards to the issue of kidnapping, the governor said, 'get me a conviction made by the court and I'll sign the execution'. So, our governor is ready for it at any time and day.
Moreover, it is not signing of the death warrant that is the issue, the question should be whether the Federal Government actually have the executioners?
Recruiting the hangmen
I think there was only one executioner left in the country who has grown old and now living on contracts because he has passed retirement age. The country had only just him and he was travelling all around the country as if he was a spirit from the dead. He was killing from one place to another but how many could he have done within a month or a year.
So, the government actually needs to recruit the hangmen. And these are not things that can be owned by the state but only the federal government which has the ability to employ. It is not just about asking the state government to sign the execution warrant but the availability of an executioner when such document is signed. That's another thing they need to face. Therefore, it is a mandate which lies within the powers of the federal government. Since I don't know the total number on death row but I believe that once one person is signed out, it simply creates room for another person. So, I think it will help also in prison decongestion.
Do you believe in death penalty as a deterrent for capital offences even when some countries of the world are moving away from capital punishment?
I support death penalty completely and I believe its notion varies among nations and countries.   If I am given the opportunity in the nearest future, I'll still execute people. There are crimes I won't even dare to discuss twice or even negotiate such as murder, kidnapping and so on. Those capital offences, I stand strongly in support of them any time, even in the church.
I stand for death sentence and it's not negotiable until we get to the level of sanitizing our psychology where people give value to other people's lives. Anybody that kills, if caught, should be ready to face the consequence; I don't have second thought about that. I believe totally in it even if it does not serve as a deterrent to others, at least it does to the person facing it.
My mother was kidnapped at age 70 and held in the bush for five days. I still remember clearly the ugly experience I went through at the time. But by the grace of God she came out alive. There are some people who weren't that lucky and they lost their parents to the cold hands of kidnappers. And if such a criminal is eventually arrested and someone comes to tell me about human rights, I will surely play deaf ears to such.
What some of us don't know is that the act of kidnapping alone kills a part of the victim. Some of these victims, especially women, were not just kidnapped but raped in the process while others were dehumanized by all standards.
The post Defective federal system responsible for prison congestion — Akwa Ibom AG appeared first on Vanguard News.