By Jude Ejiofor
Many people in Imo State are wont to believe that 2015 was the best opportunity for Hon. Emeka Ihedioha, former Deputy Speaker of House of Representatives, to have emerged the governor of the state.
The former number six man in the country lost to the incumbent governor, Rochas Okorocha despite the backings from some quarters including the Presidency. The man who emerged the PDP flag bearer over veteran governorship aspirant, Ifeanyi Ararume, was also supposed to have leveraged on the numerical strength of his Mbaise people to climb to Douglas House Owerri. But in retrospect, it appeared that it was not actually his time to be governor.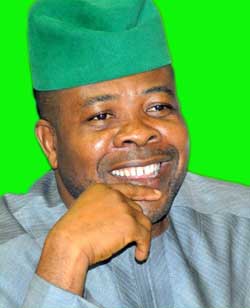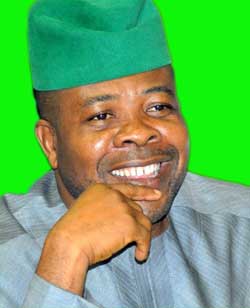 Obviously, based on Ihedioha's failure in 2015, some have written him off as having little or no chance in 2019. Those who hold this view anchor it on three major reasons to wit;  (i)  That he can never have a better opportunity than he had in 2015 when he had everything going for him  (ii)  that he is arrogant and aloof.  (iii)That being Mbaise by clan, he cannot be governor. These are good arguments backed also by good logic but they are not flawless.The other side of the coin in these arguments may actually prove to be Ihedioha's strength in 2019.
Does it not also make sense to reason that with all those powerful advantages in his favour, victory for Ihedioha in 2015 could have been attributed to those powers, and not to God or Imo people. It is only natural that with the almighty presidential power and an equally powerful position of Deputy Speaker, Ihedioha could have given credit of his victory to such powerful forces. Who else would you have given credit for your victory,if you won and   were in his shoes?   He would probably have attributed it to his earlier powerful No. six position, the presidency and all its might.
I suspect that having been sobered by the harsh realization that all those powers could not give him the governorship, Ihedioha is more likely to be more down to earth in the pursuit of any future governorship ambition. If he did not connect with the people before because he had power to his advantage, he would be forced to do so now and do so to the minutest detail. And of course he will now look up to God even more because he knows that truly the only power that can give him the governorship is God, not Presidency, not any number in the national protocol list.
The practical implication here which addresses the second allegation is that there may be a more realistic Ihedioha who will no longer be aloof and or arrogant. The malady of aloofness and arrogance is a natural bye-product of   power. Any young man with such   powers as Ihedioha had in 2015 should not be crucified if it made him aloof or arrogant. Now that he has been stripped bare of all that, he is much more likely to be realistic and humble. I suspect also that this will not be a temporary transformation because the lessons should be deep enough to endure.
Look at it this way, Ihedioha has seen power at its Zenith. He has also seen the limits of power; that human power, no matter how mighty, does not always beget what it wills. It is unlikely that this will not be an enduring lesson in his life.  My guess is that Imo people may see a new Ihedioha in 2019 who will be better prepared to be a governor and serve the people than the Ihedioha of 2015.
The Mbaise factor is no less interesting. It poses its challenges and lessons also. Yes the saying is true that some Imolites believe an Mbaise man can never be the governor of Imo state. When you ask why they produce a thousand and one reasons. But the summary of it all is that they believe that an Mbaise man is wily and self-driven and therefore will not make a good governor for Imo people.
But I hold it to be true that it is wrong to stigmatize a clan or race as a collective. It is wrong to judge a clan, or race as unfit for any human endeavor or office. Only God can do that and those who seek to judge others are only playing God. In Christianity, playing God is akin to the unforgivable sin against the Holy Spirit. No one should play God and because no one should, no one can say with Divine certainty that an Mbaise man can never be governor of Imo state.
Yet the Mbaise factor throws up worthy challenges and lessons. In the 2015 gubernatorial elections, Ihedioha won overwhelmingly in the three Mbaise L.G.A's.He got over 80 percent of votes cast in each of them. But he did not become Governor. It shows that Mbaise people alone cannot make him governor. If Ihedioha did not appreciate this reality in 2015 by acts of omission or commission, he has no choice than to embrace it in 2019. Now he must reach out, with equal energy, to all the 27 L.G.A's in Imo state because it is only the combination of majority of these votes that can make him governor.
In this respect let me add that, History has provided Ihedioha with a rare opportunity to prove to Imolites that although he is Mbaise by birth, which he is proud of, he is pan-Imo by orientation and propensity. The on-going faceoff between Mbaise Catholics and the Catholic Church over the appointment of Peter Okpaleke as the Bishop of Ahiara diocese is that opportunity. Reports have it that Mbaise Catholic faithful rejected the appointment of Okpaleke by the Pope as the Bishop of Ahiara diocese because he is not from Mbaise clan. Yet it is a settled tradition in the Catholic Church that a Clergy for appointment as Bishop must not come from a clan in the diocese to qualify.
The Nigerian constitution, allows any Imo Son to be governor irrespective of clan, religion or origin. Cannon law, or the Catholic Church constitution, allows any ordained Rev. Father to be appointed Bishop anywhere in the Catholic community all over the world without regard to his origin. Consequently, the other members of the Imo community must be re-assured that Ihedioha, although a non-Catholic does not share this myopic view with the affected Catholic community in Ahiara diocese. Mind you, it is such dispositions that make the rest of Imo people hold Mbaise suspect.
All said, I think that the most pronounced advantage Ihodioha may have in the 2019 guber race is the equity that will accrue to him because of the side he fought in the battle for the National Leadership of the PDP which ended in the Supreme Court recently. Ihedioha was on the side of Makarafi, who won the case at the Supreme Court. However, while the battle for the National chairmanship of the party was between Makarfi and Sheriff, in Imo it was more of a battle between two ideological divides.
I suspect that Ihedioha's strength may come from the battle between the two types of impunity in Imo PDP. The problem here has been the rapid ascendancy of impunity in the party which has left in its wake the complete erosion of internal democracy.Actually, over the years, internal democracy has been replaced with impunity, so much so that leaders now sit in the comfort of their bedrooms to allocate delegates and party executives to themselves.
However, some of the leaders are not as guilty as others in the impunity game particularly during the 2016 congresses in Imo. They were two divides in the impunity battle. One group felt that to save the party, that impunity should be moderated by consulting other leaders before drawing up the list of party executives. This I call those who believe in impunity with human face. Ihedioha belongs to this category. The other category is the group who believe in imperial impunity; take all to yourself, by yourself, for yourself. That is to say, sideline all other leaders and write the list by yourself, for yourself. This I call impunity without human face.
The Imo battle was actually between these two ideological divides. The Ihedioha divide was in the Makarafi camp and they won. That victory is therefore the victory of impunity with human face over impunity without human face.
I suspect that an average Imo PDP faithful who wants the party to survive and win elections again in the state will be inclined to embrace the divide of impunity with human face, not because it is perfect but because it is the only hope and path to a gradual return of sanity in the party. Since Ihedioha is seen to have championed this ideological line of battle, he appears set to reap from the surge of goodwill that is bound to follow.
I believe that by acts of commissions or and omission, Ihedioha appears to have found himself on the side of the vast, but hitherto oppressed, majority of the PDP members in the state who truly desire a return to the PDP where power actually belonged to the people.
It sounds convincing to me then to conclude that if Ihedioha should make good use of all the lessons of 2015 and tenaciously stick to the impunity with human face divide, which offers prospect for improvement, he will surely have equity on his side and 2019 may well turn out to be his year.
Jude Ejiofor is a Porthacourt based public analyst
The post Imo 2019: Is Equity on the side of Ihedioha? appeared first on Vanguard News.